What is a Matace Mecko Backing System for Carpet Tiles?
How the Mecko Backing System Enhances Carpet Tiles in the Home
The Mecko Backing System, introduced by Matace Carpet, is a powerful home upgrade that brings the luxury of carpet tiles into your home. With this simple addition to your living spaces, you can take the care, upkeep, and design of your carpet to the next level. Matace removable carpet tiles make owning carpet easy, whether you're decorating a bedroom, living room, or playroom!
The Mecko Backing System is a unique addition to the carpet world that works effortlessly with Matace removable carpet tiles. Offering an entirely new approach to installing, removing, and cleaning carpets, this backing system puts you in complete control of the carpet in your home. With this system, you can enjoy all of the benefits of traditional carpet with none of the setbacks!
How Does the Mecko Backing System Work?
This incredible system, which was inspired by refrigerator magnets, removes the need for glue and tape entirely. By simplifying the process, Matace carpet ensures that homeowners can effortlessly manage their own carpet needs at their convenience. Providing the same structure and support as traditional carpet installation but making it easier to manage, the Mecko carpet backing system is built around a newly designed connection system.

Behind the Mecko Backing System is the Molecular Gravity principle. This means that when the removable carpet tiles are installed on the floor, they are nearly impossible to move horizontally—but from a vertical position, picking them up is very easy. The carpet stays firmly adhered to the floor without needing to rely on traditional chemical adhesives. It is all in the system with no base needed!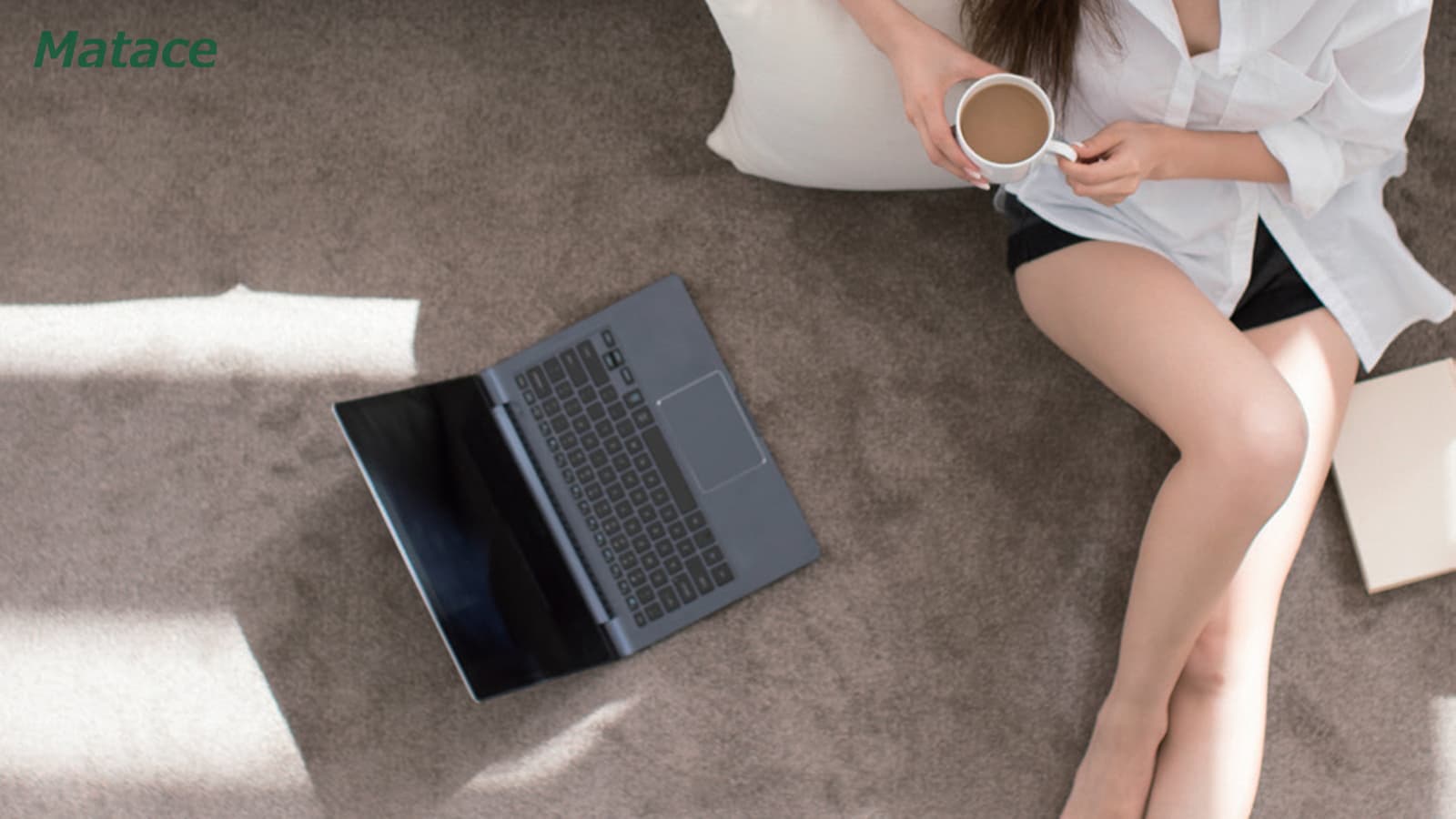 Benefits of the Mecko Backing System
There are many benefits to the Mecko Backing System, making it an easy choice if you're looking to transition away from traditional carpet. Designed specifically for the Matace removable carpet tiles, the Mecko Backing System gives homeowners control over how they decorate the floors of their homes—but it doesn't stop there.
Replace Your Carpet with Ease
Carpets in the home can come with some challenges. Sometimes it gets run down, and other times we find ourselves in need of a change. Removable carpet tiles supported by this backing system are easy to remove, meaning you can replace your carpet at a moment's notice. Whether you want to put out new tiles for guests or you want to change up the color completely, the power to do so is in your hands. You can choose to replace all of your carpets or use the removable carpet tiles to create stunning designs throughout the home!
No Chemical Adhesives
Traditional carpet installation is heavily dependent upon the use of chemical adhesives. This means that many homeowners, as well as their children and pets, are often unknowingly in contact with dangerous chemicals. With the Mecko Backing System, homeowners can avoid chemical adhesives and potential hazards, like formaldehyde, which play a prominent role in standard carpet backing systems.
Slip Resistance
The Molecular Gravity Principle that the system is based on ensures that your carpet stays securely in place. With this design feature, homeowners can rest easy knowing that their carpet will stay exactly where they want it to. Whether you have a pet that loves sprinting across the carpet or your little ones are constantly wrestling in the living room, this innovative backing system will make sure that your carpet stays exactly where it needs to. You can choose to cover a full room or make your very own custom rug. Regardless, your carpet will stay in place!
Easy Installation
The best innovations are the ones that make life easier, and that is the case here. With this carpet backing system, homeowners can breathe a huge sigh of relief knowing that their carpet installation will be quick and easy. While traditional systems can take a long amount of time and the use of tools and expertise, the Mecko Backing System was designed with ease of use in mind. Simple installation means it is easy to understand, easy to use, and fast too.
DIY-Friendly
Carpet installation and maintenance have been solely in the hands of professionals for decades, and no one expected that to change. At the front of Team Matace's innovative strategy is a focus on user-friendliness. A world where only experts can handle carpet isn't the most efficient. Inspired by the DIY interests circling the globe, this group made the decision to put the power of carpet installation in the hands of the masses.

The simplicity offered by the Mecko Backing System ensures that you don't need to be an expert in carpet installation or maintenance to manage your carpets. With this system, anyone can play the role of carpet expert in their own home. Designed to be easy to use for just about anyone, this system means that you can manage and maintain your carpet all on your own. Say goodbye to expensive appointments with carpet experts in your area!
Easier Carpet Cleaning
As much as you might love the carpet in your home, most of us find that our carpet does face some unique challenges. Spilled drinks, fallen food from children, and messes from pets can all cause problems in the home. Fortunately, this backing system makes cleaning the carpet a quick and simple process.

Homeowners can effortlessly remove the affected tile and clean it off separately. Whether that means dusting off the crumbs left behind from a dog treat or quickly rinsing off the carpet after a spilled glass of wine, cleaning your carpet is a breeze. Even if you permanently damage this stain-resistant carpet, you can just replace the damaged tile.

Having the ability to simply remove the affected area to stop the spread and treat the mess means that you can spend less time worrying about your carpet and more time enjoying it. As an added bonus, regular carpet cleanings are now completely accessible without the need for professionals or hours spent avoiding soggy carpets. You can do it all on your own!

Cost Savings
Since the Mecko Backing System empowers you to handle all of your carpet installation and maintenance yourself, the savings are significant. Having carpet installed professionally can cost thousands of dollars—and not even for the whole house! A professional carpet cleaning can cost well into the hundreds as well. With easy-to-move carpet tiles, you can save all that money and handle cleaning and installation yourself in just a few short minutes!
In conclusion
At Matace Carpet, we believe that the best products meet customer needs and make working around the home an easier process. With the Mecko Backing System, homeowners have the opportunity to tackle their carpet needs on their own terms. Offering freedom, ease of use, and complete support for your design preferences, our removable carpet tiles change homes for the better. To learn more about how our carpet tiles and innovative backing system can help you upgrade your home, feel free to contact us directly.
Share
Comments
0