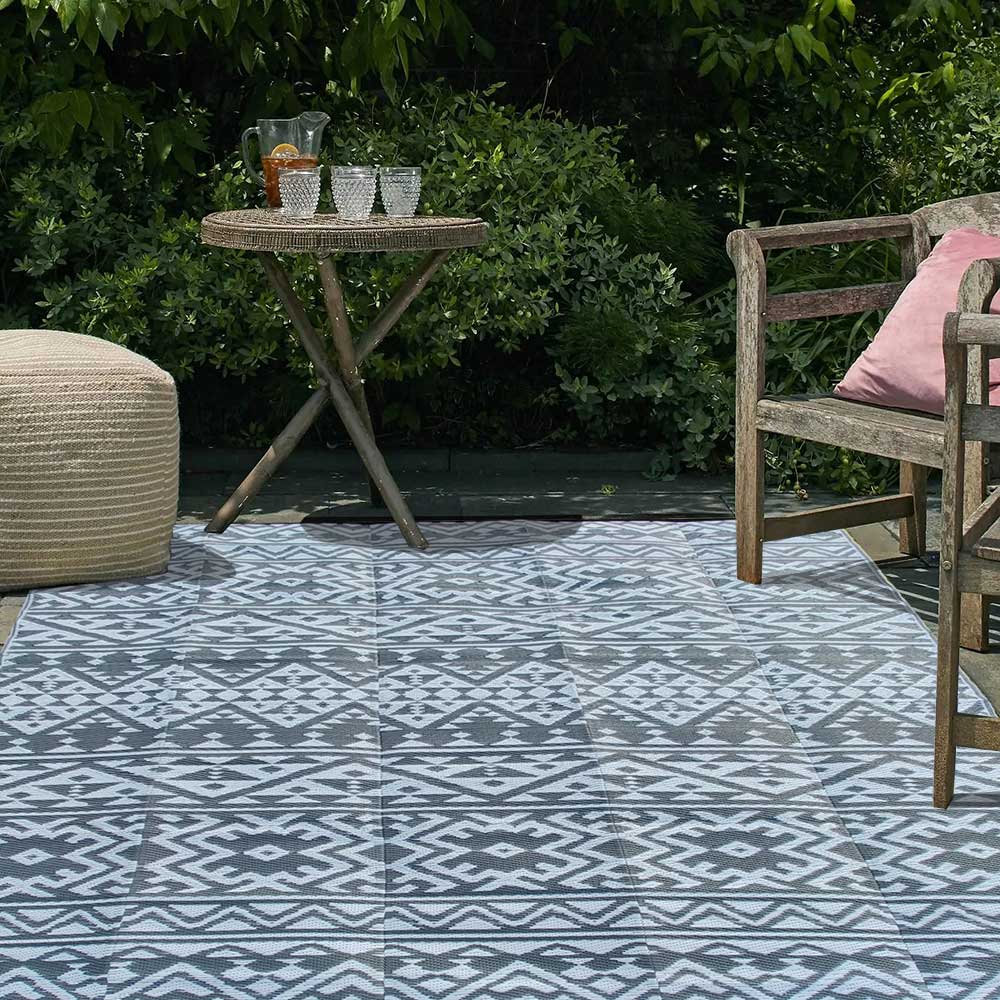 Can Outdoor Rugs Withstand Rain?
Outdoor rugs
 are ideal for taking your outdoor space to the next level! These sturdy rugs add elegance to your space, charming it up in the best way possible. Commonly 
outdoor rugs
 are made of Vinyl, Polypropylene, Polyester, Nylon, or Acrylic. 
Though 
outdoor rugs
 can withstand the scorching heat of summer, the point is can they withstand rain? In this article, we have cleared this confusion and have described in detail our top picks of the best 
outdoor rugs
 and where you can get the best of these from them. Hop on below to learn more!
Are Water Proof Outdoor Rugs Available?
None of the outdoor rug manufacturers is currently making waterproof outdoor rugs. To achieve this one feature, they must compromise on a bundle of others, including rug design, durability, and more. 
Don't worry, as you can find water-resistant rugs instead. Though these rugs are not waterproof but are water-resistant and water-repellant, and wetting out outdoors in the rain won't ruin their design, colors, quality, etc. 
Can Outdoor Rugs Get Wet?
As described above, 
waterproof outdoor rugs
 are not available on the market. However, expect your water-resistant outdoor rug to get wet in the rain. Still, their high-quality, water-resistant material and often perforated backing ensure rainwater runs off to the floor and the rug dries quickly. Still, we suggest bringing your 
outdoor rugs
 indoors in the harsh winters and rainstorms. 
Where to Get the Best Outdoor Rugs from it?
If you are looking for the best-of-the-best 
outdoor rugs
, Get ones from 
Matace
! In 2019, a group of the floor mat and cleaning industry professionals established 
Matace
. It offers various products, from water-resistant rugs to removable carpet tiles. It's reasonable pricing, excellent customer dealing service, and durable products add to its popularity. 
Our Top Picks of the Best Outdoor Rugs from Matace
Here are our top picks of the best outdoor rugs from Matace!
NeverStain™ Woven Vinyl Rug: Bamboo
Have you kept your outdoor theme all black? No rug will pair best with your theme than the 
NeverStain™ Woven Vinyl Rug: Bamboo
! 
Matace
 has used a complex jacquard technique to ensure the bamboo joint pattern appears lifelike. 
This black bamboo-colored outdoor rug is available in different sizes, i.e., 2'X3', 2.5'X7' Runner, 5'X7', 6'X9', and 6' Round.

It's made with Recyclable vinyl yarns and is phthalate free.

These woven vinyl outdoor rugs are ideal for use in high-traffic areas.
NeverStain™ Woven Vinyl Rug: Boho Red
Want to skip black and go for something more exotic and vibrant? 
NeverStain™ Woven Vinyl Rug: Boho Red
 is for you! Its Boho Red color and sturdy design make it one of the best choices for 
outdoor rugs
. 
This rare color outdoor rug is made with recyclable Vinyl and is ultra-comfortable.

It comes with 0.25 in thickness and 102 oz/sq yd weight. 

This rug from 

Matace

 is water-resistant and is much easier to clean.
NeverStain™ Woven Vinyl Rug: Quilting
Next on the list is another masterpiece from 
Matace
, i.e., 
NeverStain™ Woven Vinyl Rug: Quilting
! Its mind-blowing quilting featuring five different designs is something you can't keep your eyes off. 
No need for a cushioned rug pad, as this outdoor rug has anti-slip expanded backing. 

It's water, weather, and fade-resistant, so if you want a long-life outdoor rug, get your hands on it!

Its hydrophobic back with holes ensures the liquids run off to the floor. 
Neverstain™ Woven Vinyl Rug: Seagrass
Matace's 
Neverstain™ Woven Vinyl Rug: Seagrass
 fits best with outdoor spaces featuring wood furniture. It has the same shape and color as natural seagrass.
It comes in various sizes from 2'X3' and 5'X7' to 6' Round, and more.

It's made of premium recyclable Vinyl yards and has a thickness of 0.25 in it.

It comes with a lifetime warranty; what else does one need?
NeverStain™ Woven Vinyl Rug: Basketweave
Searching for something elegant yet chic? 
NeverStain™ Woven Vinyl Rug: Basketweave
 has got you covered! Hop on below to learn more about its features! 
With a crisscross Basketweave design, this outdoor rug fits best with modern-style furniture. 

This natural and luxurious-looking Grey Basketweave colored rug has a 1.2" wide border.

Besides using outdoors, it can also be used as an indoor rug. 
Why Choose Matace Outdoor Rugs?
Why choose 
Matace
 rugs? The following reasons will surely answer your query.
Easy to Clean and Stain-Resistant
Rugs from 
Matace
 are easier to clean. Just wipe off liquid stains with paper, and rinse them with water to eliminate sticky stains. Rinsing will not affect the material quality or design.
Matace
 rugs are excellent in ensuring comfort and pleasing eyes. It's because the team of 
Matace
 uses softer fibers when weaving the Vinyl made water-resistant 
outdoor rugs.
The advanced weaving techniques of 
Matace
, when paired with the ultra-durability of the Vinyl material, bring some exotic long-life 
outdoor rugs
. Vinyl ensures slip resistance, abrasion resistance, and walking comfort and is easy to maintain.
Are you tired of being unable to completely wipe off stains from your rugs? Don't worry, as 
Matace
 rugs are stain-resistant, whether it's of oil or liquid. 
You can avail yourself of the free shipping facility if you choose 
Matace outdoor rugs
. No matter where you are located, your selected outdoor rug will be delivered free of charge.
Want to return the outdoor rug you bought from 
Matace
? You can do so within 180 days after purchase. It's as easy as sending an E-mail. Not only this, you can send your rugs for replacement or repair if you have found a flaw. 
Wrapping Up
Looking for the perfect outdoor rug that can withstand rain and resist water damage? Look no further than Matace, the premier destination for high-quality and water-resistant outdoor rugs. With a wide selection of stylish and durable rugs, Matace is your best bet for outdoor decor that is both functional and fashionable. Plus, with their easy-to-use website, finding the perfect rug for your outdoor space has never been easier. Don't settle for less when it comes to outdoor decor - choose Matace and experience the best in quality and style.