Do Carpet Squares Have To Be Glued Down?
Are you wondering if you need to glue down your carpet squares? If so, you're not alone. Recently, there has been an exponential surge in the demand and popularity of carpet squares regarding home decor. However, many potential buyers often get confused about whether carpet squares must be glued down.
Let us find the answer to this big question in the minds of home decor enthusiasts planning to purchase carpet squares.
The Benefits of Carpet Squares
Carpet squares, also known as carpet tiles, are becoming increasingly popular due to their modular benefits and nature. They are especially useful for high-traffic spaces like conference rooms, restaurants, classrooms, and shops.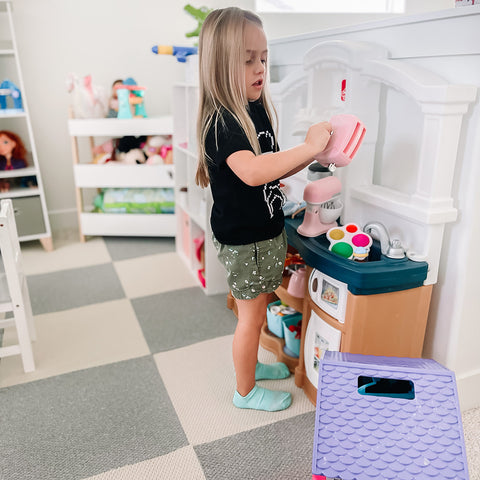 As far as the countless benefits generally linked with carpet squares are concerned, the biggest advantage lies in the fact that they can be easily and quickly slotted together. These individual carpeting pieces can be described as an accessible, affordable, and self-serve flooring choice that could be installed by homeowners or shop owners. Furthermore, they are easy to transport, utilize, and store. You can buy carpet squares in small units. Furthermore, you can install them or take the assistance of a professional to get them working with minimal disruption or inconvenience being caused to the impacted area. Also, carpet squares can be effortlessly fitted in a comparatively shorter period when compared to other choices, such as wall-to-wall carpets.

Considered by many as an extensive flooring option, carpet tiles or squares are globally appreciated because of their unmatched capacity to easily and effortlessly endure substantial traffic. Generally, most carpet squares in today's marketplace are low pile and looped, but they can be adjusted to suit varying requirements. For instance, homeowners can adjust carpet squares to redefine the feel, performance, and appearance by altering the fiber's yarn, backing choice, and weight of the pile.

The list of advantages associated with versatile carpet squares doesn't end here. You can buy your preferred carpet squares in a wide range of shapes, colors, sizes, materials, and designs as per your preferences and budget. Carpet squares can also be embraced by small, medium, and large organizations or classrooms where ducting arrangements are common or intricate cabling is usually concealed by floors. This is primarily because carpet tiles or squares can be effortlessly and easily cut as per specific requirements without any damage to the impacted area or compromises at any point in time.
Regarding the maintenance of carpet squares, it is heartening to know that carpet tiles or squares are easy to clean, store, and replace. Interestingly, carpet squares tend to collect less dust and dirt. Moreover, they can be easily cleaned using regular vacuum cleaning. In case of rare damage to carpet squares, they can be easily and quickly replaced. Since you will have to replace only areas of the damaged carpet squares, you can save money as you wouldn't have to replace the complete flooring in the living space or workspace.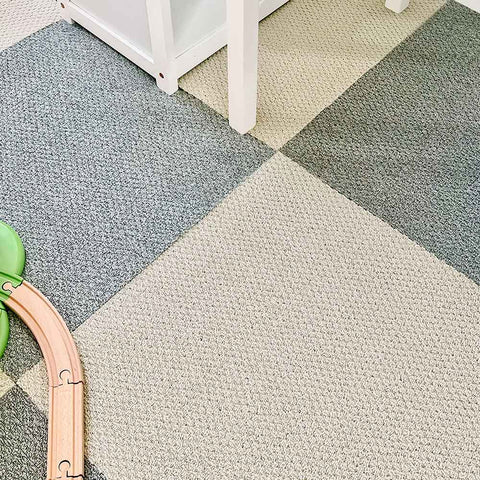 Now, our initial question is, do carpet squares have to be glued down? Carpet squares come in different shapes, sizes, colors, and varieties. Some adhesive carpet squares need to be glued down, some carpet squares don't need to be glued down, and others require double-sided tape.

Matace Carpet Squares-A Viable Option

If you are looking for elegant, impressive, affordable, and complete value-for-money carpet squares, Matace Carpet Squares may be an excellent choice.
Matace Carpet Squares can be a great option for you if you want to:
Buy easy-to-move, lift, or install carpet squares.
Create a mesmerizing living or workspace environment that is only restricted by the designer's imagination.
Buy carpet squares for call centers, busy restaurants, classrooms, living spaces, or large office environments.
Make sure that carpet square designs flow seamlessly from tile to tile.
Uplift the appearance and decor of your home or office.
Buy carpet squares on a tight timeline or budget.
Purchase a better and complete value-for-money carpet flooring solution.
Avoid future replacement expenses in case of any damage to the flooring.
Experience better design and choice flexibility.

Returning to more advantages of Matace Carpet Squares, Matace Removable Carpets are powered by a unique Mecko™ Backing System using state-of-the-art polymer materials utilizing the physics behind Molecular Gravity.
A strong 7-layer structure characterizes Mecko™ Backing System to offer the following advantages:
1. Unparalleled pedaling comfort
2. Optimum comfort and uniform pile density
3. Complete protection is offered to carpet tiles for longevity
4. Carpet lint prevention by fixing surface fiber roots
5. Improved strength of the carpet tiles
6. A quiet and safe floor, even without additional shock pads
7.No use of adhesives, based on the Molecular Gravity principle

These advantages help the carpets get sucked onto the floors, such as Gecko, without using any tapes or adhesives. In other words, there is no risk of any marks left behind or damage to your floor. If this is not all, the surface of Matace carpets is made of stain-resistant fibers that allow you to easily and quickly rinse off any general stain with clean water.

Lastly, you are free to replace a single piece of carpet square in case anything is accidentally spilled on the carpet area. This means you don't have to spend a fortune to replace the entire carpet, as all you need is to replace the affected carpet square.
Time to take your luxury carpet tiles' upkeep, care, and design to the next level with Matace removable carpet squares. Whether it's about redefining or redecorating your living room, playroom, bedroom, or workspace doesn't matter. Matace carpet squares are everything you need to give a new meaning to home improvement.

To know more about Matace carpet squares or order Matace carpet tiles with free shipping, please reach out to us directly .