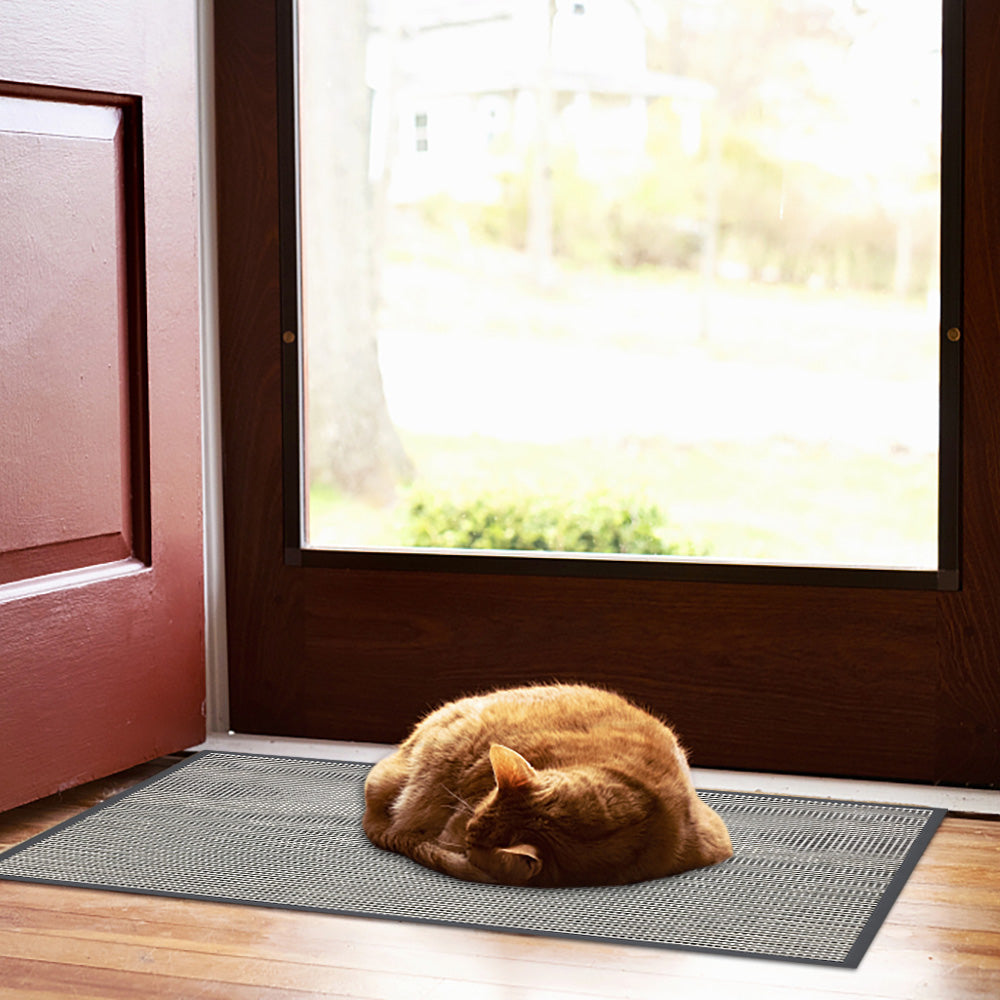 How Big Should Your Front Indoor Door Mats Be?
There are many factors to consider while shopping for an indoor doormat. To a large extent, size matters. Where can you get an indoor doormat of the appropriate dimensions? How do you find it out, then? We hope that our article about indoor door mats will help you narrow down your options to the one that is perfect for you.
How Large Should Indoor Front Door Mats Be?
How large should your indoor entrance doormats be when deciding on a size for your indoor entrance doormats? The size of your front door would determine the answer. If your front door is standard size, you'll need a doormat at least 29 inches wide to do its job. Always determine the width of the door and choose a doormat that is at least 80% of that width.
To prevent dirt from being brought into the house, getting the right doormat is important. That's because a too-small mat would be worthless. If your doormat is too big for the space, it takes up, it might not make your house look good. So, it all comes down to what you like, how big your front door is, and what size doormat you choose.
How Big Is a Typical Indoor Front Door Mat?
Since door mats come in various forms and sizes, it is important to take precise measurements of the area in front of your door before making a purchase. Standard doormat dimensions for use inside the home are 18x30 inches, which works well with most standard doors. For larger doors, you'll need something bigger, like 22x36 inches, to give people enough space when entering or leaving without having too much carpeting right on top where their shoes touch first. The dirt won't be able to get to their toes this way.
How do you choose the size of a doormat?
When searching for a doormat, it's important to consider the door and entrance dimensions. A doormat that is too big will not be pleasing at the entrance, while one that is too small will seem out of place. You should select a mat that is at least as broad as the door but no more than 80% of the width of the door. With this approach, the mat won't seem too large for the doorway and will maintain a sense of proportion.
But what if your entryway or entrance is not a standard size? Or maybe you're looking for a bigger mat for aesthetic reasons. A custom-sized doormat is your best option in such a scenario. This service is widely available, and the cost is typically reasonable. Email them your dimensions, and they will do the rest. If you're looking for a doormat but can't find one in the right size, don't fret; having one made to order is always an alternative.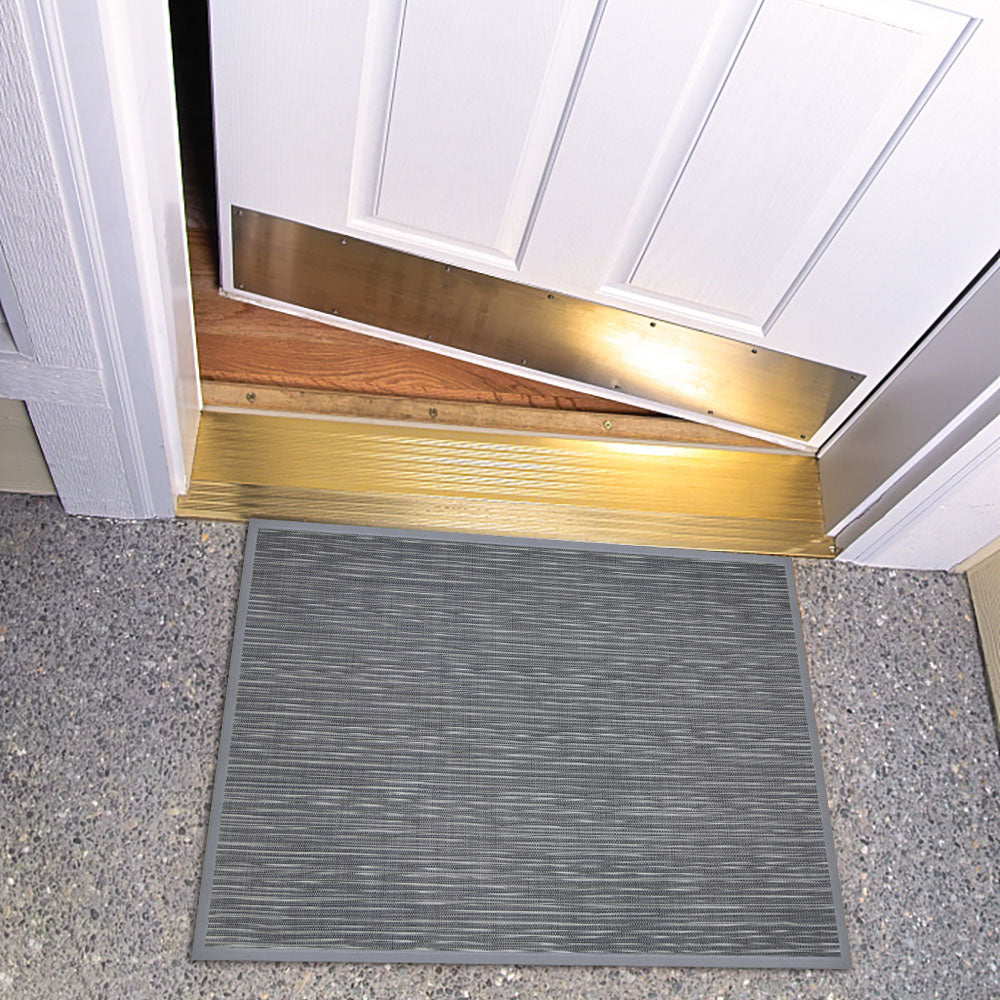 How Big Should a Front Door Mat Be for a Double Door?
The recommended width of a front entrance mat for double doors is about six feet. Your doormat must be at least 4.8 feet wide to look presentable. For the best visual effect, position a doormat five to six feet wide in front of double doors; this will give you plenty of room for two individuals to wipe or clean their feet.
The doormat's material is another factor to consider while purchasing. The ones made of natural materials like coir or jute tend to last longer than the ones made of synthetic materials. Also, a doormat with a rubber backing is more likely to remain in position on your doorstep than one without.
If you want a high-quality doormat that would look fantastic in front of your double doors, try one of the numerous styles available at Matace.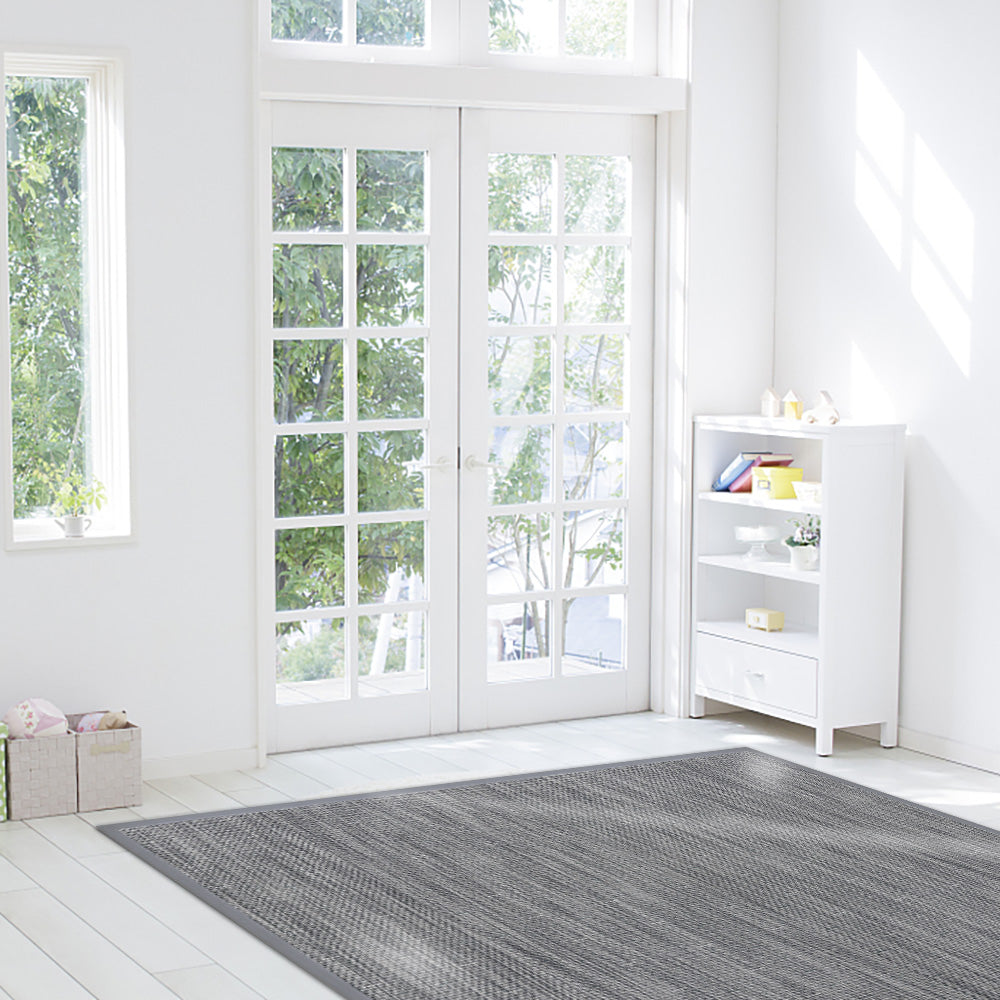 Do Double Doors Require Two Door Mats?
Doubling the doormats is unnecessary. If you follow our advice above, you won't need to purchase two mats for the double doors. Again, it doesn't mean you can't give it a go if you're so inclined; you'll save money by purchasing a single mat between 5 and 6 feet wide rather than many smaller ones.
What's the Best Way to Keep Your Indoor Door Mat in Place?
If you're worried about your doormat moving around, there are a few things you can do to keep it in place. First, make sure to choose a mat with a non-slip backing. It will help it stay put, even on smooth surfaces. You can also use double-sided tape or carpet tacks to secure the mat to the floor. Just be sure to remove them when it's time to clean the mat, so you don't damage it.
What Is The Best Material For An Indoor Door Mat?
The best indoor door mats are durable materials that withstand much foot traffic. Mats made of coir, rubber, or polypropylene are all good choices. However, woven vinyl mats are a great option if you're looking for something durable, attractive, and easy to clean.
Best Woven Vinyl Indoor Door Mat
NeverStain Woven Vinyl Rug: Bamboo
The NeverStain Bamboo Woven Vinyl Rug is a luxurious, high-quality floor covering that would look great in any home. The rug features a 1.2" wide border and a unique jacquard technique to make the pattern of the bamboo joints seem more realistic. It is made of 100% woven vinyl. A machine makes it. It has a 0.15" thick anti-slip expanded PVC backing and is fade, water, and weather resistant. The NeverStain Bamboo Woven Vinyl Rug is simple to maintain and would make a great indoor doormat. When you buy this mat from 
Matace
you'll get 15% off your first order.
NeverStain Woven Vinyl Rug: Quilting
The NeverStain Quilting Woven Vinyl Rug is beautiful and well-made, making it a great addition to any room. The rug is resistant to fading, water, and weather due to its woven vinyl structure, and it can be washed quickly and easily. The NeverStain Quilting Woven Vinyl Rug is a great choice for an indoor doormat because of its thick, comfortable, and non-slip expanded PVC backing and beautiful, eye-catching quilting pattern. Get 15% off your first order on 
Matace
when you order this mat.
Conclusion
Even though the size of your indoor doormat is important, it's not the only thing you need to consider. You also have to think about the covering, the design, and the material. If you pay close attention to each of these things, you will be able to find the best indoor doormat for your home.