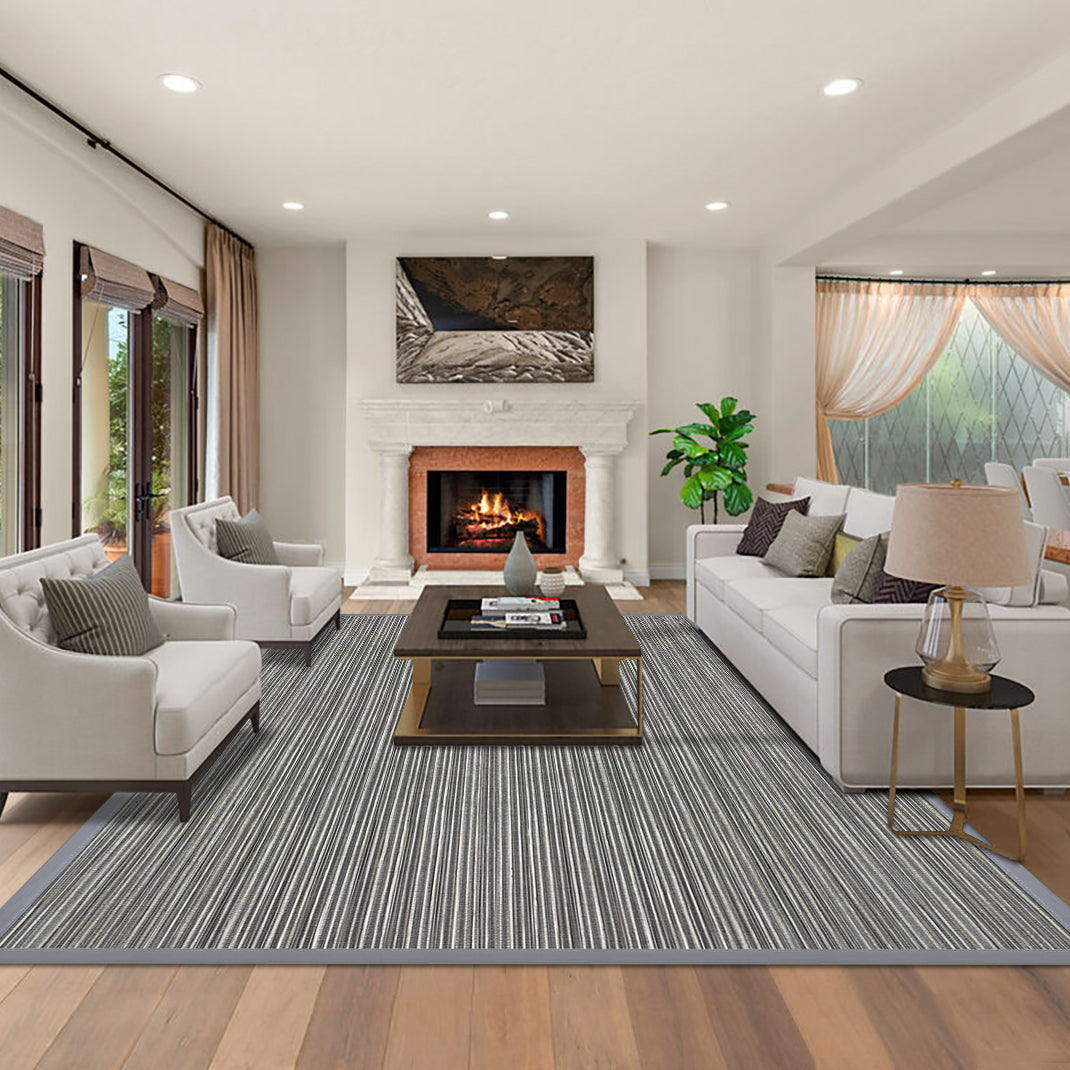 How to choose the right area rug for your space?
Transform your home with the simple addition of an area rug. A well-placed rug has the power to elevate any space, adding a sense of depth and dimension. Whether you're looking to create defined zones in your living room or dining room, or simply want to add a touch of personality to your furniture, the right area rug can make all the difference. But with so many options to choose from, finding the perfect rug can feel overwhelming. Don't fret! We've put together an extensive guide to help you navigate the world of area rugs and find the perfect fit for your home.
Things you need to pay attention to before buying a rug
First of all, you need to consider which area of the room you need to place the rug in. living room, kitchen, bedroom, etc. Secondly, you need to be clear about your needs first, whether you want your area rugs to become a decoration that makes the room look more beautiful or want to pursue the functionality of the rug easy to clean, avoid people slipping and falling in places with a large flow of people and other practical roles. Function and aesthetics are opposite, and it's important to understand your needs before making your choice. Thirdly, it is not recommended to buy exquisite traditional rugs for families with children or pets. The next consideration is the rug style and matching, material, shape and size, cleaning and care, etc.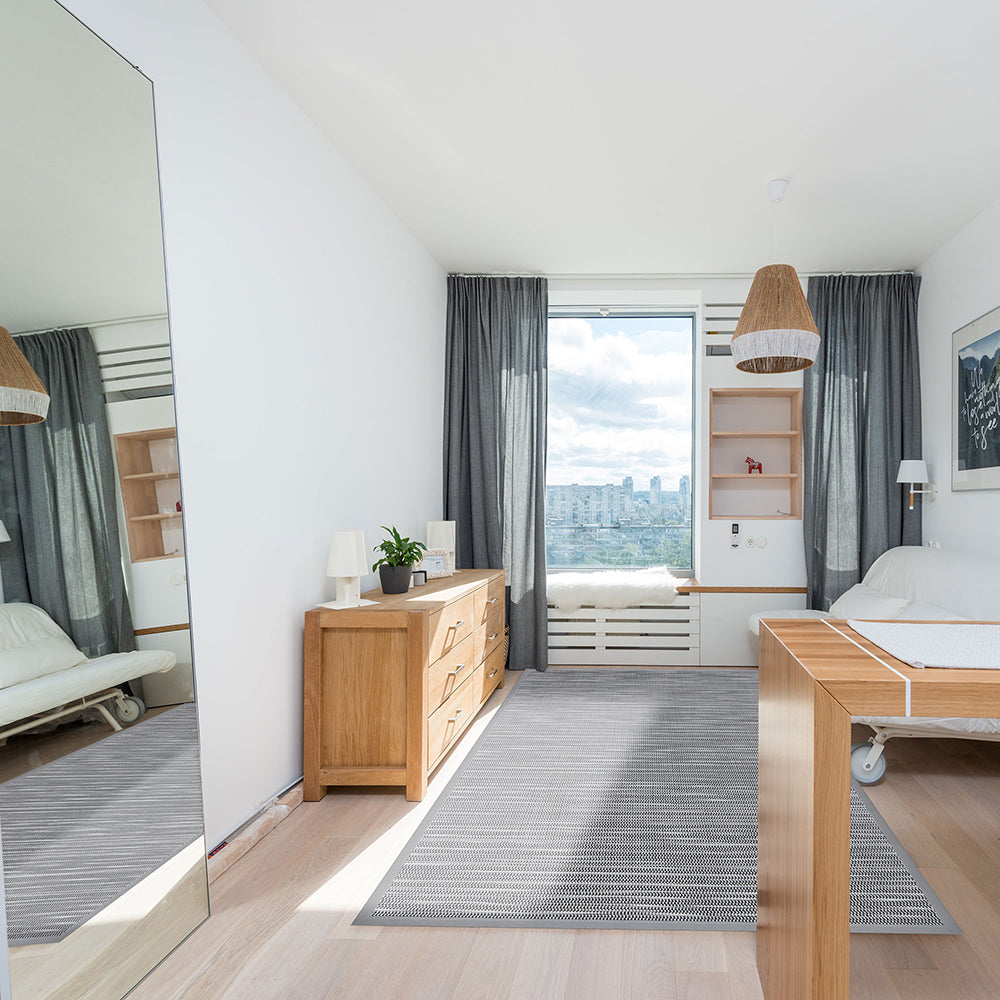 The most recommended areas for rugs
Living room, kitchen, entrance door, bathroom door, bedside. It is tiring to clean too many rugs. Here we will make a subtraction to make the space look beautiful, not messy.
Suitable rug material for your home:
Polyester is a general term for any fabric or textile made using polyester yarn or fibres. Fibre made into polyester fabrics can be used to make furniture, textiles, etc. Polyester fibres are very strong, so they are not as prone to tearing, stretching, or pilling as cotton and other natural fibres. This strength means that polyester rugs can be easily cleaned without needing special care. At the same time, it is also moisture-resistant and will not make the rugs appear moulded if the indoor air is too humid.
Polypropylene, also known as olefin, is a synthetic material used in rugs because it can withstand heavy use and maintain a soft, plush feel. The softness of polypropylene rugs is very similar to 100% wool rugs in appearance and touch. Also, polypropylene rug is stain-resistant, making it easy to clean most messy and accidental spills. And because polypropylene rugs are machine-made, they are one of the most cost-effective rug options on the market.
The biggest advantage of a Woven Vinyl Rug is that it is waterproof. Woven Vinyl area rugs are the perfect alternative to traditional rugs. They can be added to most indoor or outdoor spaces in your home. Large area rugs of this material are also ideal for high-traffic areas such as kitchens, hallways, family rooms or outdoor terraces. Vinyl rugs are durable, non-slip and easy to clean! Matace's woven vinyl rug is the perfect choice for regional rugs, and it can meet your needs for aesthetics and functionality.
Appearance
quality
Regardless of the tips for choosing an area rug, watching its appearance is the first test method. The specific method is also very simple: to carefully check its surface, on the one hand, check the flatness, whether the fluff will be uneven; on the other hand, watch the colour for inconsistent colour difference.
Size
Generally, the rug will be placed in the coffee table area or cover the position of the sofa. The living room is the most important part of the entire furniture. The flow of people is relatively large. Rugs need to be both aesthetically pleasing and durable. If the living room indoor space is large, it is necessary to choose a heavy, wear-resistant large-area rug. It is best to spread the rug under the sofa to create an overall uniform role. If the living room does not occupy a large floor, you'd better choose a rug that occupies slightly larger than the coffee table, and you can also choose a round rug.
Colour fastness
If you prefer coloured rugs, in the process of purchasing, use solid colour rags to rub on the rug back and forth to test its colour fastness. If the rag is dyed, it is possible to determine the quality of the product is poor, and it's better not to buy it.
Rug matching
Echoing the overall style: The most important thing to match the rug is to echo the overall decorative style. Different decorative styles have different requirements for the rugs' colour, shape and pattern.
Indoor colour: Generally speaking, as long as it is an existing colour in the room, it can be used as a rug. But try to use the largest and most eye-catching colour in the indoor area, such a combination is not easy to make mistakes, and it is safer. If the decoration style in the home is more avant-garde and there are more colours to mix and match, you can also choose colours or neutral colours that are rare in the interior.
Lighting situation: south-facing or southeast housing large lighting area, it is best to use cold-coloured rugs, which can neutralize strong light; If it is northwest oriented and the lighting is limited, warm rugs such as reddish and orange should be used, which will make the originally cold house feel warmer, and it can also increase the effect of space.
Homestyle: This refers to the influence of furniture styles on rug matching, including sofas and tables. If the coffee table and sofa are of decent shape, you can choose a rectangular rug; If the sofa has a certain curve and the coffee table is also round, the rug can be considered to choose round one.
Summary
Are you in the market for a new rug? Don't make a purchase decision without first learning about the relevant knowledge of rugs. By doing so, you can ensure that you select the perfect large area rug for your room. But don't forget to also check the quality of the rug. By taking the time to consider these important factors, you can rest assured that you're making a wise investment in your home décor. So what are you waiting for? Start your search for the ideal rug today and elevate the look and feel of your living space!