Is Black Carpet a Good Idea?
Are you looking for a stylish and sophisticated way to spruce up your home? Black carpet is the perfect choice for you!
In the fashion world, black never goes out of trend. However, people usually overlook the importance of black home accessories and rely on light colors. They also think having black walls or floors will make their home unattractive, which is nothing but a huge misconception! Black is a fantastic color. Not only does it look sleek and modern, but it also offers a variety of benefits that make it a great option for any home. From dealing with high foot traffic to providing a cozy atmosphere, black carpet is the perfect way to add a touch of sophistication to your home.
Benefits of Black Carpet
Black carpet or black carpet tile with padding is a great choice for any home, as it offers a variety of benefits. Here are just a few of the reasons why you should consider black carpet for your home:
1.
Perfectly Deals with High Foot Traffic
A black carpet is a perfect option for your home if you have high foot traffic, as it easily hides stains and dirt. Many times pets or kids bring dirt or spillages that can ruin the outlook of the whole rug if it has a light color.
However, with a black carpet, you avoid all the tensions that come with colors like cream, white, etc. The best part about a black carpet is that it doesn't require frequent cleaning or vacuuming, saving you time and money.
2.
Goes with Everything and Every Color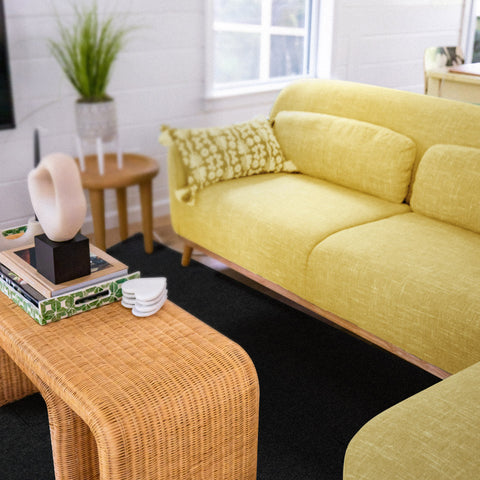 Like your black jeans go with any shirt, a black carpet offers you the same comfort in your home. Whether you have light color walls or a darker shade, you will see this carpet blending with the surroundings. Not only this, a black textured carpet makes all the home accessories more noticeable.
You will see your newly placed terracotta planters or yellow couch rocking with a black carpet. In addition, a black carpet opens the way for countless design ideas. So, if you want to add chic and natural furniture to your home, it's time to have your favorite decor with a black rug.
3.
Allows You to be Bold
Many people still consider going with an all-black rug a very daunting or complicated task. If you are also one of them, then don't worry, as you can easily find plenty of black carpets having colorful patterns. For instance, a black carpet with skin or a light pink design can make your space look more stylish.
4.
Lifts Mood and Gives a Cozy Look
Typically, dark colors make a room look smaller and snug, while light colors bring a spacious touch to the area. So, when you place a black carpet in your home, it immediately brings a dramatic appearance along with adding a comfort factor.
Just sink into your sofa and read your favorite book in a snug and cozy environment created by the black rug. However, if you feel a black carpet is too much for your room, don't hesitate to balance it with natural or artificial lighting and contrasting tones.
5.
Complements Light Colors
You may not know this, but if you want something that can quickly highlight all the light-colored home accessories, black is the right color. With a black carpet, you will see your white lamps and light blue couch getting all the attention. Not only this, but if your walls have light color paint, a black carpet will complement their look!

Are Black Carpet Tiles with Padding a Good Choice?
If you don't want a traditional carpet and want a more elegant flooring solution, carpet tiles with padding are the best. What serves as a cherry on the cake are black carpet tiles with padding, as they offer coziness and stability at once! Here are a few reasons that make black carpet tiles with padding a good choice for your home!
1.
Easy Installation
Carpet tiles with padding are very easy to install compared to many ordinary carpet tiles. The padding is already attached to the tile, and you don't have to cut it separately, which saves you time. To install it on the floor, all you need to do is remove the backing and install them one by one.
2.
Fits in Any Place
When it comes to black carpet tiles with padding, there's no specific area to install them. Whether you install them in a heavy foot traffic area such as your garage or your living room, they will last long. Irrespective of the installation area, these tiles with padding will not get damaged by spillages, weather conditions, mold, etc.
3.
Hassle-Free Maintenance
As mentioned earlier, carpet tiles with padding don't get damaged by spillages, and they are effortless to maintain. Moreover, the cushioning in the carpet makes it easy to vacuum and clean. 
4.
Gives a Soft Feel
Black carpet tiles with padding offer great cushioning, giving you a soft feeling while walking on them. Not only this, but the padding in these tiles significantly reduces your energy bills by keeping a warm environment. With these tiles, say forever Goodbye to noise as it absorbs the surrounding sounds.
Conclusion 
Simple black carpet tiles are great for giving your home a unique and dramatic touch. So, if you want to purchase them, there's no better option than Matace tiles! At Matace, our ultimate goal is to make your life colorful with our high-quality and budget-friendly carpet tiles.
The best part about our carpet tiles is that they are removable and washable. So, you can have your favorite carpeting anywhere in your home without any complicated installation.
Get in touch with us and select your favorite carpet tiles from our huge yet attractive designs.