Is Green a Good Color for Carpets?
This color has a calming effect and induces a state of relaxation, which is a great option for the living room or bedroom.
Green is without a doubt a fantastic carpet color. First off, green is a color that exudes life and hope. When people think of green, they frequently conjure up images of the lively spring, such as trees, grass, and so on. Family members will therefore be healthier in a space with a green carpet, and the home will be filled with positive energy, which makes everyone in the family feel refreshed and energized, especially the old and little ones. They will have excellent physical health and be free of all ailments.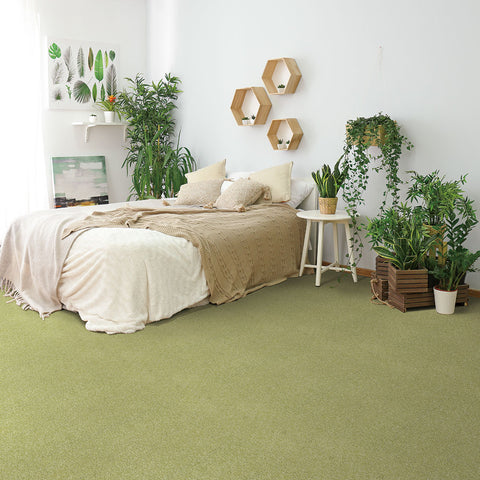 What are the materials of green carpets?
1. Pure wool green carpet
A type of carpet composed of fine wool known as pure wool is nice to the touch and is particularly environmentally friendly. The pure wool carpet in the bedroom area is quite cozy to walk on and represents a high-quality existence. But a pure wool carpet is pricey, difficult to maintain, and prone to moth infestation, mildew, and fur loss. Most wool carpets also smell like sheep, and it usually takes at least two months for the scent to go away.
2. Silk carpet
Leather or silk is used to make silk carpets. When positioned in the living room or bedroom, it presents a very elegant and decorative appearance. The only drawback is that since the raw ingredients are rather scarce, average folks cannot afford it. It is typically not advised to purchase.
3. Chemical fiber carpet
Chemical fiber carpet, commonly referred to as synthetic fiber carpet, is available in a wide range of materials, including nylon, polypropylene, acrylic, polyester, and others. High strength and elasticity carpet materials like polyester and nylon not only retain the natural beauty of fibers for a very long time, have a wool-like feel, are elastic and wear-resistant, but also have outstanding anti-fouling and dust-proof properties. It is ideal to place it in the living room or bedroom. It is reasonably priced, lightweight, and flame resistant. Chemical fiber carpets are offered for sale by Matace. Matace is an excellent option if you want to buy a carpet made of chemical fibers!
How can I complement a green carpet?
When matching a carpet, we take into account the hue, color pitch, and lightness in accordance with the theory of color matching. The hue cycle is the foundation for hue color matching. You can create a steady, cohesive effect by matching colors from the same hue cycle, and you can create a specific contrast effect by using distant colors.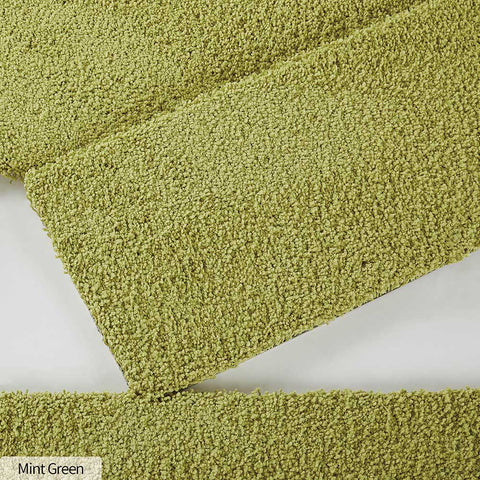 Multiple color palettes and green carpet go well together.
Green is the hue that most closely resembles a chameleon. The combination of cool (blue) and warm (red and yellow) colors in green is the reason. Depending on how the two are balanced, green might be regarded as either frigid or warm or somewhere in between! 
Cool green is emerald with a hint of blue, whereas warm green is chartreuse with a lot of yellow in it.
Color-matching ideas for a green area carpet
Gold and Green: A classy combination for formal, modern, and traditional occasions.
Green and Neutral Colors: This color combination is excellent if you want a natural, organic, or minimalist style because it is straightforward, reliable, and easy to employ.
Cream and Green: They make for a preppy-style aesthetic combination. Add some flowers to the mix to make it look more popular.
Green and blue: These colors go well together because they are cool, tranquil, and contemporary.
Green and Yellow: They are a natural duo because they are adjacent to each other on the color wheel and are both upbeat and cheery.
Pure green carpet is pleasant and refreshing. Making the bedroom aesthetically pleasing at the same time as making the kitchen, bedroom and other floors match with a green carpet. Matching a white bedroom with a pale green may prevent it from looking overly depressing and can also make it feel like spring air permeating from the window.
Mint green carpet tiles are available from Matace. Come to Matace to choose your carpet matching if you're also crazy about green carpets! Your expectations will undoubtedly be met by Matace's green carpet!
The Mecko Backing System is utilized by Matace Carpets.
The Molecular Gravity theory underlies the Mecko Backing System. As a result, it is practically hard to move the detachable carpet tiles when they are installed on the floor, but it is extremely simple to pick them up from a vertical position. Without using the usual chemical adhesives, the carpet is kept firmly fastened to the floor. With no need for a base, everything is in the system!
The Mecko Backing System offers several advantages, including ease of carpet replacement, lack of chemical adhesives, slip resistance, ease of installation, suitability for DIYers, ease of cleaning, and cost savings! 
So, if you're looking for a green carpet, Matace is the perfect place to go!