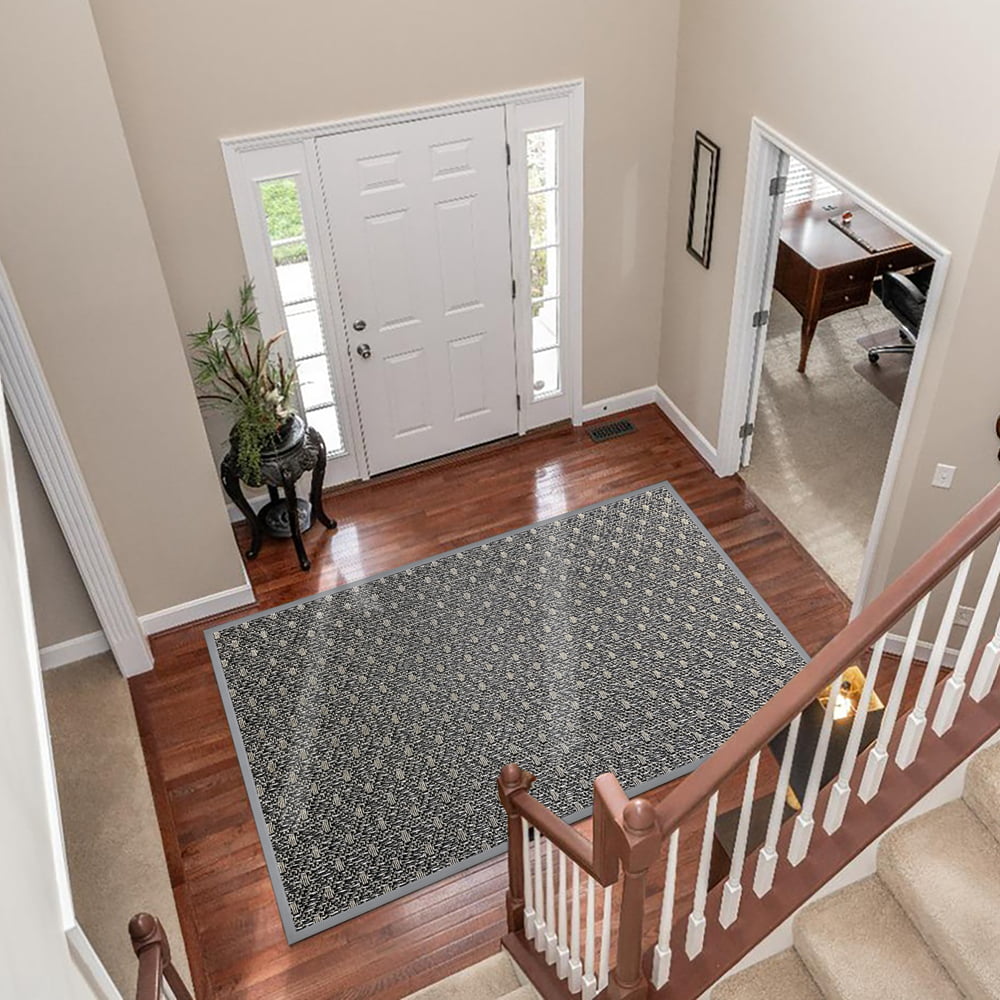 Never stain recyclable Woven Vinyl Rugs
Why is a stain-free braided Vinyl rug the If there's one thing you should know about Mother Nature's Cleaning, it's that Mother Nature rules (quite literally, for us). We all support using environmentally or recyclable door mats outdoor & Matace methods and solutions. The process of making recycled door mats involves grinding up the Vinyl. Everyone wants to be sure they live in a lovely and healthful atmosphere. Recyclable vinyl door mat will thus be quite significant. Nothing is more important than protecting the environment in whatever manner possible in the modern world. We can use less natural resources and more of the ones we already have, like Recyclable vinyl yarns. This material is incredibly eco-friendly, produces a durable product, and offers a great eco-friendly alternative. Research shows Vinyl is the best material for flat-woven rugs and mats, especially in high-traffic areas, regions prone to wetness, and households with pets since it requires no care and is simple to clean. The best choice for busy families with young children and animals? Read on, and the article will tell you the answer.
Recyclable Matace rugs provide the following key advantages:
Better Indoor Environment
Unlike typical carpeting containing hazardous, petroleum-based compounds that off-gas into the house, Matace rugs are made from Recyclable vinyl yarns.
The recyclable vinyl door mat is quite robust. Additionally, liquid and oil stains cannot penetrate vinyl braided carpet, so there is no need to worry about cleaning even without a washing machine.
Today's era is all about hacks and unique indoor or outdoor design. It should be your go-to choice if you want to add a creative element to your house. These Door mat Individual mates may be mixed and matched by homeowners to create unique wall-to-wall carpeting and area rugs. These recyclable mat mates come in various designs, hues, and textures, and fresh selections are often made available.
Carefully weaved for softness, the vinyl threads then adhere to a non-slip latex coating. The achievement? A strong, flexible surface that provides a good grip and is comfortable to walk on. Additionally, it is resistant to germs, mildew, and stains. You won't need to put a rug pad below since the latex component will take care of it.
The vinyl materials used to construct these NeverStain™ Woven Vinyl Rugs save resources from being needed to build new carpets and allow us to respond friendly to the environment.
These recyclable rug stands apart from other carpets in terms of aesthetics since it is differently created. They come in distinctive designs and complement any furniture in your house. Additionally, these Matace mature gently, so they will never seem worn out regardless of age.
Instead of gluing each mate to the floor, just put it on the floor, and you are done. Installation is comparatively fast and easy.
Taking care of and maintaining No stain woven vinyl rug mates is comparable to taking care of standard coated carpet is way too easy: To maintain a clean appearance, vacuum often and deal with stains immediately.
The good news is that these door mats are stain-resistant, making the appearance of your rugs as new and vibrant as the day you bought them quicker, simpler, and easier. These stain-resistant indoor or outdoor mats also reduce the need for future carpet renewal since they are less likely to be spoiled or damaged. It translates into time and financial savings while still getting the pleasant warmth you want.
Protection from Insects and Mildew
Vinyl is renowned for its supple feel, waterproof properties, and resistance to harm from insects or mildew. We went one step further during the manufacturing process by adding additional advantages to make it harder for food, dirt, pet pee, and other contaminants to permeate the rug fibers, using vinyl's resilience and adaptability.
We are not just looking to provide you with doormats, but we also keep in mind the need for difference spaces. Not all spaces require the same sizes of rugs to reduce waste and cost Matace is proving a huge range of sizes of door mats. You can select from like 2.5'X7', 2'X3', 6'X9', 6' Round, 3'x5'.
There is a false belief that no-stain rugs are expensive, but when you look at longevity and how friendly these are to use, the cost is nothing. You no longer have to worry about the stains and rubbing, and dabbing these mats saves time. We all know how important saving time is nowadays. A stained vinyl rug is generally less expensive than you imagine. The cost of Never Stain™ Woven Vinyl Rug is 79$ to 499$ depending upon the size, and if you catch a sale, it's a steal deal.
Matace offer interior solutions in its style! We have a huge range to select from. We have a huge variety of textures of rugs in those. You can also select the shape from a runner to a round, rectangle, or a smaller door mat; we also understand the need for different interior color schemes and thee, so we also provide a wide range of colors you can select from.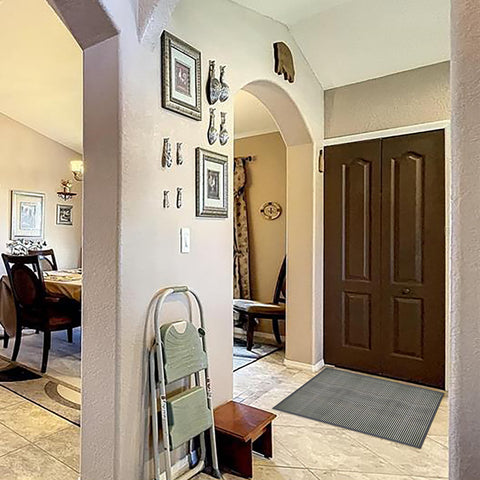 Is No stain Woven Vinyl Rugs worth It?
At Flooring Options in the US, we understand that life can be messy, especially in households with active children and pets. That's why we highly recommend our No Stain Woven Vinyl Rugs, which offer exceptional durability and peace of mind. Not only do these stain-resistant rugs provide a practical and affordable way to add warmth and comfort to any room, but they also make cleaning up a breeze. You'll never have to worry about spills, stains, or pet accidents ruining your beautiful flooring again! With our No Stain Woven Vinyl Rugs, you can enjoy a worry-free and hassle-free carpet experience for years to come. Trust us, you won't regret choosing these rugs for your home.