5 Reasons for You to Get a Matace Removable Carpet Tiles This Summer
You can't overlook the importance of carpeting, can you? But how fantastic it would be if you could install a carpet that doesn't need much effort to clean, is durable and also affordable.
Keeping the carpet tiles clean comes with much hustle and bustle. There is no doubt that if you use beautiful carpets to decorate your house, it has the ability to enhance your home's beauty more and more. But here is the catch: even though carpets are used to give us comfort and to decorate our homes, we must not disregard the effort and money we have to put into maintaining those carpets occasionally.
However, we have a solution to your misery. We present to you removable carpets by Matace. Team Matace made sure our removable carpets were easier to install, less expensive to clean or maintain, and much more fun to use than other traditional unremovable carpets. Our main motive behind producing these removable carpet tile is that we want everyone to enjoy their carpets, which are easier, more fun, looks beautiful and is more affordable for all of our people.
The best thing about our Matace carpet tile is that you will have endless style choices. You can DIY this removable carpet however you want, wherever you want. You might have heard about peel and stick carpet tiles being all the rage in businesses and other commercial spaces, but unlike peel and stick carpet tiles, our removable carpet tiles don't contain any glue. So don't worry about residues on the floor. Even though Matace removable carpet tiles do not contain any glue and won't leave any marks behind, we still made sure they are slip-resistant. So, if you are looking forward to buying a new carpet for your home, we believe Matace removable carpet tiles will be the best choice for you.
Today in this article, we will talk about buying removable carpet tiles, especially Matace carpet tiles. We hope you will like the reasons for getting these carpet tiles. So without any more delays, let's get into the conversation.
What is removable carpet tile?
For those who are confused about removable carpets with peel and stick ones, here is the answer for you.
Removable carpet tile is a modern carpet. Removable carpets can be removed, installed, and replaced very quickly and in an easier way than any other traditional unremovable carpet tile. The main thing that makes these carpet tiles different from peel and stick carpet tiles is that they are basically glue-free, adhesive-free, and tape-free, while ensuring sufficient slip resistance.
They are very affordable and easy to clean. You can even arrange them however you want. No worries about the material. Because Matace made sure your carpet tiles were made from comfortable materials, they are also designed for residential use, so don't worry if you want to install them in a high-traffic area.
Who doesn't love carpeting? From home to the office, everywhere we need carpeting. Using carpets not only gives you comfort, they can also be used as a decoration to enhance your home's beauty. From rugs to carpets, every homeowner knows the importance of this specific object.
That's why Matace came up with the idea of starting to produce a removable carpet tile for you people. These carpet tiles are easy to use, easy to install, affordable, customizable, and also look good.
So, if you want to replace your carpet tile this summer with a new one, why don't you try Matace's removable carpet tile? We all know that summer is the cheapest season of the year for carpet sales. Why not take this as a new chance and start living smartly with our new modernized removable carpet tiles?
By now, I guess you are already considering removing the carpet. Need more convincing reasons? Here you go. Here are the five reasons for you to get a Matace removable carpet tiles this summer:
Installation
Carpets don't come cheap. Well, we are not talking about our removable carpet tiles, we are talking about other traditional carpets. Do you know you have to spend $3 to $6 per square foot on having carpets installed by a professional carpet installer for a traditional, unremovable carpet tile? Suppose you have a 16x20-foot room (320 square feet). In that case, you have to pay about $960 to $1,920 for a normal traditional carpet. If an underlayment is not included with the carpet tile, then you have to pay extra for the pad for a 320-square-foot room, which adds another $100 to $200, depending on the type and quality of the pad. Now include the price of the installation, maintenance, and cleaning.
Now let's talk about installing Matace carpets. Installing Matace removable carpet tiles is very easy. Anyone can install it by themselves without incurring any additional costs. All you just have to do is mop the floor, and you are good to go. Put the carpets on the floor and then place them however your ideas lead you, just like fridge magnets. All you just need to do is put them on and that's all.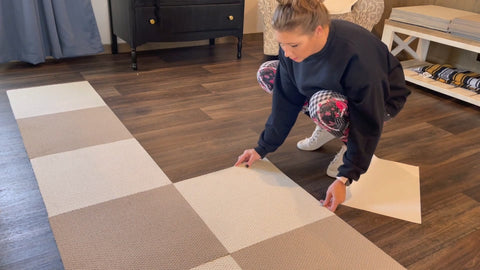 Comfortness
Normally, residential carpets are not made for comfort. Basically, its main motive is to cope with high traffic areas. That's why comfort is the last thing you think about when it is time to talk about residential carpets.
However, Matace used high-quality materials to ensure both comfort and resistance. It is designed for you to use in high-traffic areas, which will also give you comfort just like commercial carpets.
Low-maintenance
Carpets give us comfort and look beautiful when we put them in our house. But there is another reason to love your carpets if they are in the form of removable carpet tiles.
Maintaining and cleaning carpets is a big problem. You have to vacuum sporadically. For deep cleaning, you will need proper machines. Sometimes you will need to pay professionals to do this job for you, which will cost money. If you don't clean your carpets regularly, there is a chance that mold and mildew will grow, which can destroy your carpets and also be bad for your health.
If we understand that all good things are expensive, and if you spend money and take proper care of them, anything can be saved. But what if you get that same good thing that will take less effort to clean and maintain? Yes, you got it right. We are talking about having a removable carpet tiles. We recommend you buy our removable carpet tiles. If you buy Matace carpet tiles, you will get stain-resistant carpet tiles that will be very easy to clean and maintain.
Durability
You might have heard about carpet tiles before. The best thing about having a removable carpet tile is its durability. People have been using these kinds of carpets for ages. Especially if it is a commercial space. These carpets are a smart choice for high-traffic areas. So just think, if these carpets could be good for commercial areas like airports and offices, how fantastic it would be for your home too. If you have kids or pets, no worries, our carpets have got your back. If you find your carpets are dirty or damaged, just pull up that specific part and get a new one without replacing the entire floor. It's amazing, isn't it?
DIY Friendly
No matter if you live in your own home or in a dorm, Matace carpet tile will make you feel at home wherever you are. We heard your problems and came up with a solution. You can install our removable carpet tile in your home if you are looking for a durable and low-maintenance carpet. We know how problematic it can be to find the right size carpet and then install it. Our removable carpet tile is DIY-friendly. You can install them wherever you want, as long as they meet your needs. If you think you need to change your place and go somewhere else, no problem. Just remove them normally and that's it. You can also remove these carpet tiles to clean your floors or rearrange them whenever you want. It works like a life-hacker, isn't it?
No further scraping or scratching will be needed, no heavy effort and not a single glue mark will be left on your floor because we use this Mecko Backing system so that you don't have to use any adhesive tape or glue for slip-resistance. However, if you want, you can later replace them with new ones because our Matace carpet tiles come at a reasonable price.
Conclusion
I'm guessing you're sold on getting our Matace removable carpet tile for your home this summer. If you are a traditional carpet user, you might be having second thoughts about our removable carpet tile. But I hope your doubts are cleared now. I hope you liked our review of the article, which is about "5 Reasons for You to Get a Matace Removable Carpet Tiles This Summer."
Our carpet tiles are available for two-day shipping throughout the United States. We are also offering you customization. This means you can provide us with designs, and we will make that specific carpet for you. Our carpet tiles also come with a warranty. If you are dissatisfied with our carpet tiles or discover any flaws, please see our return policy. Our customer service is available to you 24/7. You just have to give us a call or email. However, you are free to check out our extensive premium, one-of-a-kind collections. Happy shopping.
Share
Comments
0