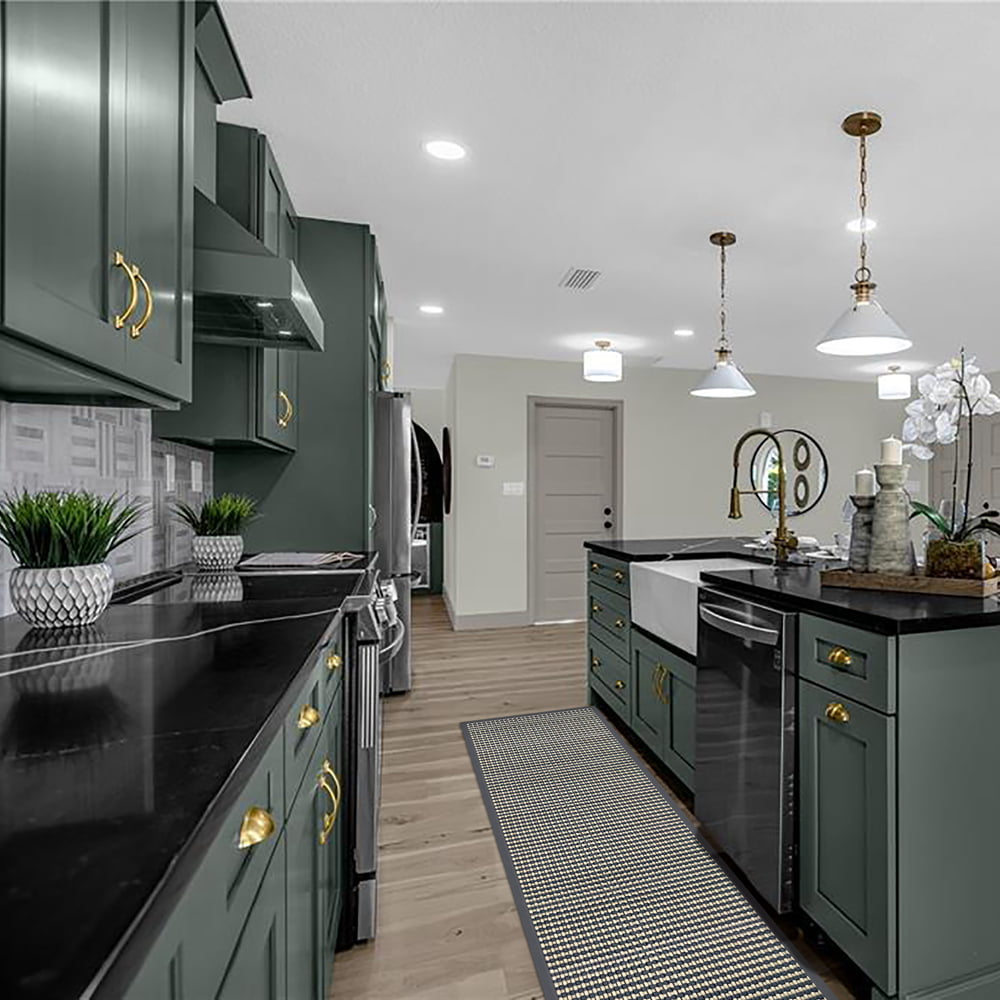 The best easy-to-clean kitchen rugs
kitchen rugs are popular choices for enhancing the aesthetics of your home and reducing noise while ensuring safety in the kitchen. Spending a considerable amount of time in the kitchen makes it crucial to make it more appealing. However, using carpets in the kitchen can be challenging due to difficulty in cleaning them, as stains and dirt can quickly accumulate. But, there's good news! We've identified the easiest-to-clean kitchen runner rugs that you can wash by hand or in a machine, making maintenance a breeze.
Whether you're looking for low-maintenance kitchen rugs or curious about their benefits, this article has got you covered. Let's dive in!
Kitchen rugs Pros and Cons
Are you considering adding some cozy charm to your kitchen with a soft and inviting kitchen runner rug or kitchen rug? Look no further! Here are some pros and cons to help you make an informed decision.
First off, a kitchen rug provides an added layer of protection. Say goodbye to shattering glasses on cold and unforgiving tile floors. The kitchen runner rug provides a cushioning effect that will protect your floors and your fragile items. Additionally, if you have any back problems, a soft kitchen rug can help alleviate any discomfort while standing for long periods of time.
Not only do kitchen rugs provide practical benefits, but they also add a warm and welcoming touch to the heart of your home. The kitchen is the social hub of many households, and a cozy kitchen runner rug can make it feel more inviting and comfortable for guests and family alike.
However, it's important to consider the downsides as well. Kitchen rugs are more challenging to clean than hard surfaces like tile or concrete, and heavy foot traffic can lead to wear and tear, making your kitchen appear less clean and fresh. This is where investing in quality kitchen runner rugs comes in handy. They provide the same cozy benefits while being easier to clean and maintain.
In conclusion, adding kitchen runner rugs to your kitchen can be a great way to make the space feel more comfortable and inviting. Just remember to choose quality materials that can withstand the challenges of a busy kitchen.
How to choose the right easy-to-clean kitchen runner rugs
Transform your entertainment room or relaxation area into a cozy and inviting space with a polyester rug. Not only are they easy to clean, but they're also allergen-free - a major bonus for those with sensitivities. Don't be put off by the term "synthetic." Polyester rugs can be just as stunning as traditional wool or cotton rugs when you choose the right colors and patterns.
Bring the comfort of indoors outside with polyester rugs that are tough enough to withstand the elements year-round. Enjoy the benefits of a low-maintenance, stylish, and allergen-free rug that's perfect for any setting.
Polypropylene carpet is an excellent choice for those who want to invest in a durable and long-lasting flooring option. Not only is it tough and resilient, but it's also effortless to clean and resistant to staining. With just a little bit of care and maintenance, your polypropylene carpet will look as good as new for years to come!
Regular vacuuming is the key to keeping your polypropylene carpet looking its very best. By removing dirt, dust, and debris from the fibers, you'll prevent wear and tear and keep it looking fresh and vibrant. And if you happen to spill anything on your carpet, make sure you blot it up immediately to prevent staining.
Of course, even with the best care, your polypropylene carpet will eventually need a deep clean. That's why we recommend getting it professionally cleaned with a steam cleaner at least once a year. This will not only remove any stubborn stains or dirt buildup but will also help to extend the life of your carpet.
By following these simple steps, you can get a minimum of 7 years of use out of your polypropylene carpet - and potentially up to 12 years if you take good care of it.
Are you looking for a low-maintenance rug that can handle the wear and tear of daily use, without breaking the bank? Look no further than vinyl rugs! They're the perfect choice for any space that needs a durable, waterproof, and cost-effective option.
Vinyl rugs are not only easy to clean, but they also have a unique balance of sturdiness and softness. When you walk on them, they bounce up a bit, providing a comfortable underfoot experience. And with the latest technological advancements, vinyl rugs now come in a variety of stunning finishes that are sure to elevate the look of any room.
Whether you need a rug for your kitchen, living room, or bedroom, vinyl rugs are the perfect solution. They're perfect for high-traffic areas, as they can handle spills and stains with ease. Choose vinyl rugs and enjoy a low-maintenance, stylish and durable solution that will last for years to come!
Easy-to-Clean Kitchen Rugs
Looking for a hassle-free way to keep your kitchen floor clean and tidy? Look no further than kitchen runner rugs! Whether you're dealing with spills, crumbs, or everyday wear and tear, these durable and easy-to-clean rugs have got you covered. With a variety of styles and colors to choose from, you're sure to find the perfect rug to suit your needs and match your decor:
NeverStain™ Woven Vinyl Rug
✅LUXURIOUS LOOKS ---> The natural look of real sisal has a 1.2" wide border. Woven vinyl is more suitable for interior decoration and is one of the favorite luxury materials for designers.
✅ PREMIUM QUALITY ---> 100% Machine Made Woven Vinyl Rug. Fade, Water, and Weather Resistant.
✅ ULTRA-COMFORTABLE ---> The NeverStain™ collection uses 0.12 inches of anti-slip Non-woven Backing. You shouldn't need an extra Cushioned Rug Pad.
✅ EVER CLEAN ---> Liquid stains can be wiped off directly with paper; Sticky stains can be rinsed off with water.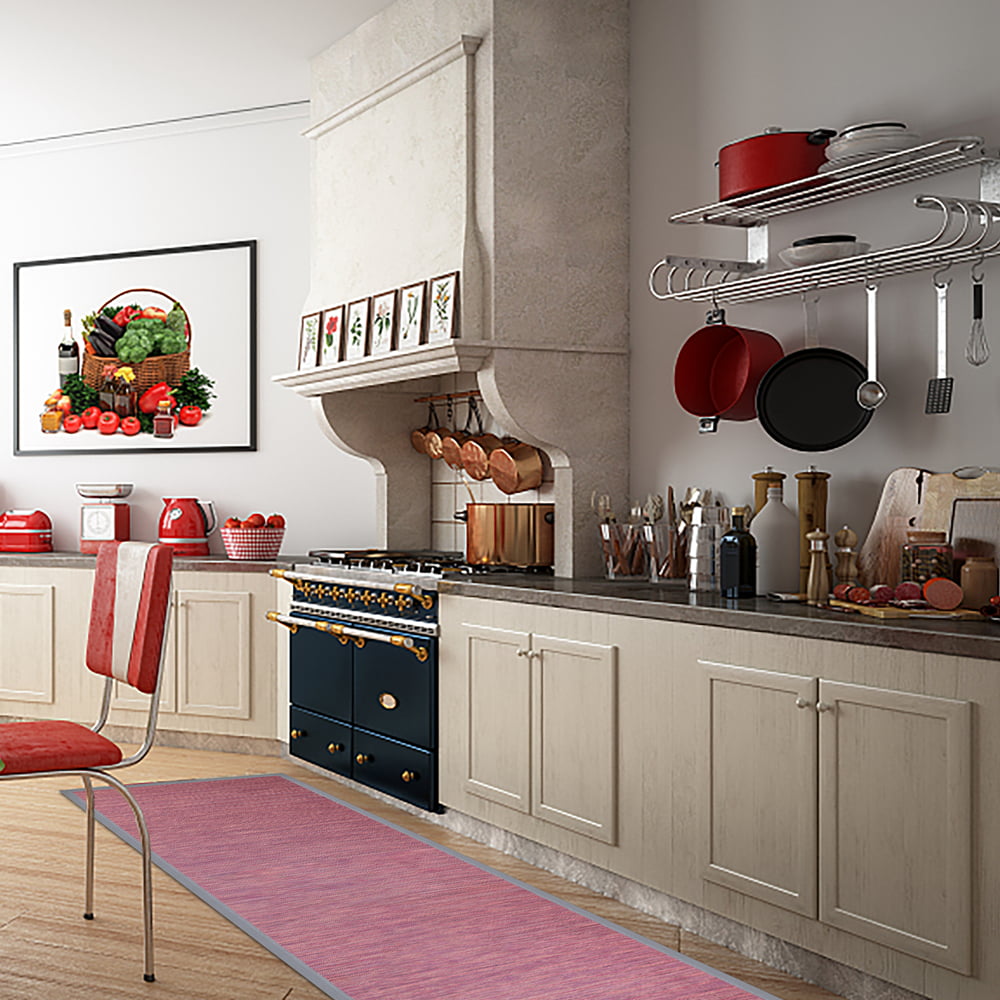 Final Words
Looking to give your kitchen, bathroom, or other busy rooms a stylish upgrade? Consider choosing vinyl kitchen rugs! Not only do they instantly enhance the appearance of any room, but they also offer exceptional durability and hassle-free maintenance.
Cleaning is a breeze with vinyl kitchen rugs, thanks to their water-resistant surface. You'll love the added comfort of the padded layer that makes the vinyl soft underfoot. These rugs are designed with non-slip properties, sitting perfectly flush with your floors for a seamless look that doesn't pose a safety hazard for older homeowners or guests.
Say goodbye to dust build-up, too! Unlike traditional carpets, vinyl  kitchen rugs don't collect dust, making them the perfect choice for allergy sufferers.
For the ultimate combination of style and function, we recommend Matace brand kitchen runner rugs. Upgrade your home with vinyl rugs and enjoy the comfort and convenience they bring!