The Pros and Cons of Using Shag Carpets
People use various types of carpets to furnish their domestic and commercial areas. However, shag carpets are a recent trend in the carpet industry to enhance the visual appearance of your space. You will love them in your house or office for a more attractive look because it not only boosts the comfort level of your living space but also creates an inviting appearance. 
Moreover, as a shag carpet is available in multiple colors, selecting various colors and varieties of shag rugs for different spaces is fun. These rugs give you a fluffy feeling under your feet that you might crave for. However, before you buy one, don't forget to look for the advantages and troubles you may experience with these rugs.
Advantages of Shag Carpet
Using a shag carpet in your home and office has countless perks. Here are some of the significant advantages you might admire. 
 1.  Available in a Huge Variety. 
Shag carpets come in a variety of colors, sizes, and shapes, so you can easily find one that fits your style. Whether you want a unique color or size, shag carpets have a wide variety to cater to your needs. If your primary aim is to make your room more airy or big, then a light-toned shag carpet is what you need. However, if warmth and comfort are the main concern, a dark-toned shag carpet can do wonders. Moreover, you can also select different shapes, such as round and rectangular shag carpets, according to the size and requirement of your home to complement the overall space. 
 2.  Visually Appealing
Shag carpets are colorful and elegant, and their design diversity will ultimately make your guests or visitors fall in love with them. It's because of their furry appearance that feels fascinating against the hard flooring. Although several styles of shag carpets are available, people often buy geometric shag carpets more because this print gives a statement look to your indoors. Moreover, minimalist floral designs or animal theme shag carpets are also excellent choices for those who want to boost their interiors.
 3.  Soft And Comfortable 
Besides adding an aesthetic flare to your indoors, shag carpets offer excellent softness and comfort. Walking on these silky rugs makes your feet feel relaxed, giving a soothing sensation throughout your body. 
Your kids and pets can also play great on these soft carpets. In winter, when everything seems freezing, these shag carpets provide you with the necessary warmth and coziness. This is one of the top-notch pros that make shag carpets most in demand.
Disadvantages of Shag Carpet
Besides its countless advantages, a shag carpet has some drawbacks that can annoy you. Here are a few cons to consider before you choose to buy one
  1.  Cleaning And Maintenance 
The first and most problematic con of shag carpets is that they are not easy to clean and maintain. As these rugs have huge furs, stains and dust particles get stuck in them, resulting in dust piles. These dirt piles are very difficult to remove at home, and sending them to a cleaning company is the only solution that demands high charges for washing single shag carpet. 
So, shag carpets are expensive and difficult to clean overall, but are less difficult and less expensive to clean separately. If it is Matace removable carpets, there is basically no cost, and you can clean it at home.
 2.  Easily Damaged 
Short-haired Carpets are slightly more durable than shag carpets.
Short-haired Carpets are suitable for high-traffic areas, as they can withstand the tread of many people. For example, the living room.
Shag carpets are suitable for areas with less traffic, such as bedrooms.
 3.  More Expensive 
A shag carpet is made of expensive materials, so their overall purchasing and installation cost is high compared to other carpets. Moreover, they don't last long, so you may need to change them after a few years, making it a costly choice. Don't forget the maintenance and cleaning cost of a shag rug before selecting them for your indoors. How to choose a shag carpet with high cost performance, we can look for it in Matace.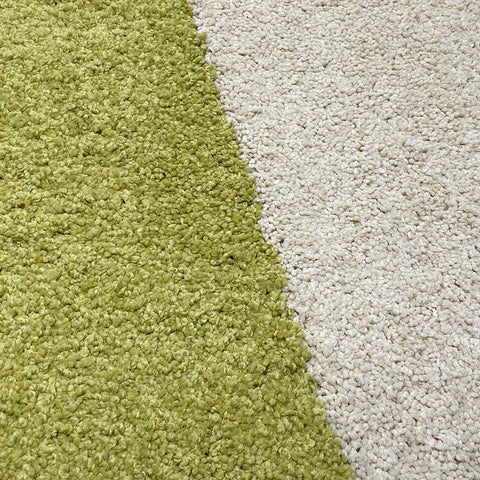 Shag Carpets Vs. Short-haired Carpets: What's the difference?
Short-haired carpets come with small and dense fibers, making their appearance quite stiff. In contrast, the shag carpets have soft and extensive furs and are a good option for people looking for comfort. However, the former is more durable and bears a lot of wear. 
Why do people need to choose a shag carpet?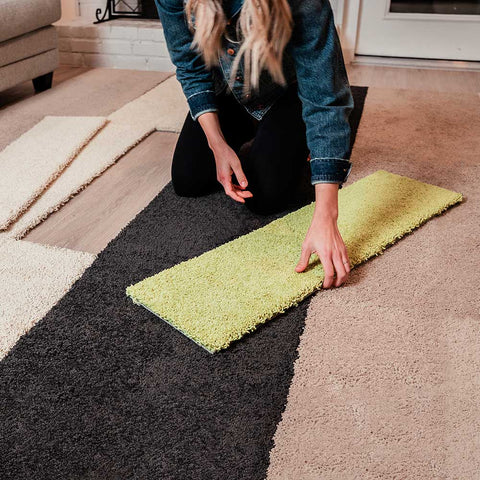 Here are a few reasons people need to buy a shag carpet for everyday use.
● Have a variety of patterns and colors that are great for giving your indoors a statement look.
● Very fluffy and comfortable - suitable for people who prefer comfort and coziness over durability. 
● Unlike a short-haired carpet, a shag carpet is better suited for use in low traffic areas.
● You can quickly add a shag carpet in any small space, like bedrooms or offices, without worrying about ending up with a crowded outlook.
Features of Carpet Tiles
Carpet Tiles are a new variant of shag carpets with a handful of unique qualities. Let's look at some of those advantages or qualities to get a better idea. 
Removable and Easy to Replace
Carpet tiles are supported by a Matace backing system making this carpet easy to remove and replace. So, if you want to replace the old carpet tiles with new ones due to guests or looking to change the color completely, you can easily do it. 
Washable
Matace Removable Carpet tiles are very easy to wash with water, and you can even clean them in your washing machine. If there's any accidental spillage, you can quickly rinse the carpet tile separately without needing to replace or remove the carpet tiles completely. 
Quick Install 
The installation of carpet titles is very easy to understand and implement compared to traditional tiles. So, there's no need to schedule expensive appointments with a carpet expert now, as you can do the installation yourself without hassle. 
Special Padding
A special backing system on Matace carpet tiles provides extra insulation and super coziness. With them, you can enjoy a calm and warm space even in extreme weather conditions. Moreover, it offers a protective and noise-proofing feature, keeping your area calm and peaceful. 
Simple Style 
Matace carpet tiles are simple and minimalist, with a unique style. As they are available in various colors, you can add a colorful and beautiful sensation to your room with them. What's the best part? You can even create customized designs in your living room to make it visually appealing.
Final Verdict
People love to buy shag carpets for their enhanced comfort and appealing look. However, their troublesome maintenance limits their wide use. Matace latest carpet tiles are a reliable and cost-effective alternative to fulfill your wish for a shag carpet. You can choose your favorite colored tiles and arrange them to create a unique look.
With Matace removable carpet tiles, you can design a new carpet whenever you wish. Fast installation and removal will help you save money on maintenance. Now you don't need to make an expensive appointment with a carpet expert.
Get in touch now and choose from our latest attractive, removable carpet tile collection!