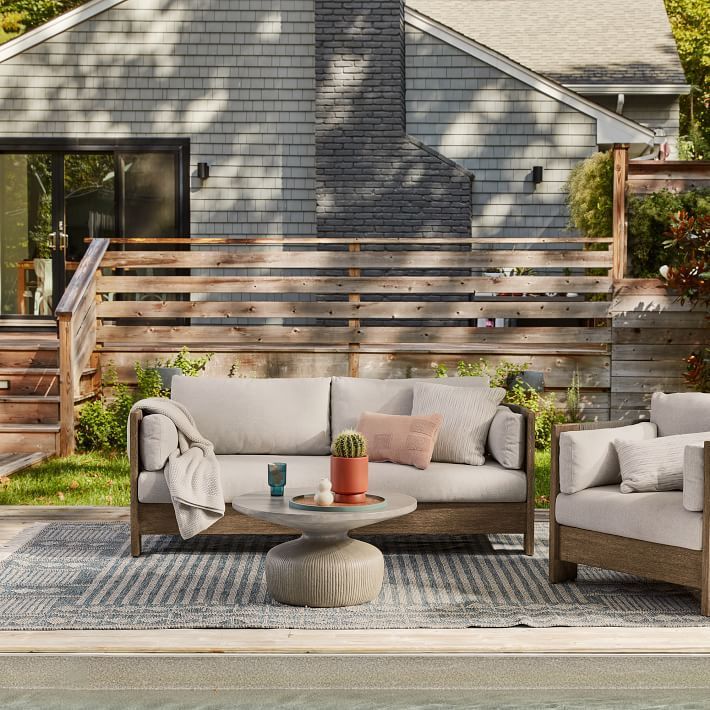 Transform Your Outdoor Space with an Outdoor Area Rug
Are you looking to take your outdoor space to the next level? Look no further than an outdoor area rug! These stylish additions are perfect for adding character and warmth to your patio or deck, transforming it into a cozy oasis that you'll love spending time in.
But outdoor area rugs aren't just about aesthetics - they also provide practical benefits. They offer a comfortable surface underfoot, making your outdoor space more inviting for bare feet or sandals. And, they can even help protect your wooden surfaces from the damaging effects of direct sunlight, keeping your outdoor space looking fresh and vibrant for longer.
With so many options available, it's easy to find an outdoor area rug that perfectly matches your personal style and budget. So why wait? Add an outdoor area rug to your space today and enjoy a beautiful, comfortable, and functional outdoor area all season long!
Outdoor Area Rugs
Outdoor area rugs are an essential part of any outdoor living space. They add color, texture, and comfort to a patio or deck. They come in a variety of sizes and materials to suit every outdoor space. The most popular material for
outdoor area rugs
 is recyclable vinyl yarns that can withstand the elements while adding style indoors or out.
These durable and practical rugs will last through all types of weather conditions, making them ideal for both indoor and outdoor use. A wide variety of colors, styles, textures, and shapes are available so you can find the perfect rug for your home's decorating needs.
Many offers UV protection as well as being highly stain resistant for easy cleaning and maintenance. Outdoor area rugs also provide cushioning underfoot so you don't have to worry about standing on cold hard surfaces when entertaining outdoors.
Benefits of Outdoor Area Rugs
Outdoor area rugs are the perfect way to add style and comfort to any outdoor space. They create an inviting ambiance while also providing a practical function. Not only do they add color, texture and definition to any backyard or patio, they also help protect your deck or patio from everyday wear-and-tear.
If we talk about
Matace
outdoor area rugs, they come in a variety of sizes, colors and patterns. This allows you to easily find one that will fit perfectly with your current décor and match the overall aesthetic of your outdoor area. They are made from extremely durable materials which allow them to withstand the harsh elements of nature and remain vibrant for years on end. With their low maintenance requirements, they provide an easy solution for homeowners looking for an attractive, worry-free way to personalize their outdoor living space.
The NeverStain Outdoor Area Rugs from Matace are ideal for those who want to create a beautiful outdoor living space that can stand up to the elements without needing constant maintenance.
How to choose the right outdoor rug?
Are you going to buy outdoor area rugs? there are a few key factors to consider:
when buying outdoor rugs, you should consider the quality of the product before purchasing. Quality is essential when it comes to outdoor furniture and accessories because these items are often exposed to the elements and must withstand various weather conditions. High-quality materials like polypropylene, polyester, Woven Vinyl, or olefin hold up better over time and can be more durable in damp climates than natural fibers like cotton or wool. In addition to material considerations, pay attention to how well the rug is constructed. Look for tightly bound edges that won't fray easily in high winds or heavy rain. The weave type of the rug also matters; look for patterns with tight stitching so dirt doesn't accumulate as easily between fibers.
When buying a rug for your home, you have to take into consideration the climate of your area. If you live in an area with high levels of rain or humidity, it is essential that the material used for your rug can withstand moisture. Woven Vinyl is one of the best materials for this purpose, as it is designed to resist water absorption and repel moisture.
Woven Vinyl fibers are tightly woven together, providing a durable and waterproof surface that prevents moisture from penetrating down into the underlying layer. This makes Woven Vinyl ideal for areas that experience high levels of rain or humidity as it ensures that any spills or dampness will not seep through onto the flooring underneath. Moreover, Woven Vinyl rugs are easy to clean and maintain - simply use a vacuum cleaner or steam mop to keep them looking like new!
A large rug can make a small area look larger and balanced, whereas an oversized rug can make a large area seem cluttered and unbalanced. Consider the amount of space available in the outdoor area before selecting a rug.
The scale of the furniture around the rug should also be taken into account when making this decision. If furniture pieces are too large compared to the size of the selected rug, they will overwhelm it and take away from overall aesthetic appeal. Conversely, if furniture pieces are too small compared to the chosen rug size, they will look lost in its vastness and won't provide enough contrast for visual interest.
When it comes to buying
outdoor rugs
, the look and color of the rug is just as important as its durability. After all, you don't want an ugly rug taking away from the beauty of your outdoor space. Therefore, when selecting an outdoor rug, consider the overall aesthetic that you wish to achieve.
Look for colours and patterns that will draw attention without being too overwhelming or detracting from other elements in your outdoor area. Depending on your desired atmosphere, there are a variety of styles and designs available to suit any taste; from traditional models in warm tones to modern ones featuring bright hues. Consider how the pattern and colors will combine with other items such as furniture or plants before making a purchase decision.
Budget is an important factor when purchasing outdoor rugs. Outdoor rugs can range from inexpensive mats to high-end luxury pieces, and the price you pay will depend on the size, material, and level of quality you choose. Before beginning your search for the perfect outdoor rug, it's helpful to decide what type of rug is best for your needs and how much you're willing to spend. Knowing your budget ahead of time will help narrow down your choices and ensure that you find an option that fits both your style preference and financial restrictions.
Conclusion
Looking for a way to spruce up your kitchen while also ensuring safety and convenience? Look no further than kitchen rugs! With hard floors being the norm in modern kitchens, a stylish and durable rug can provide a soft and welcoming surface for your feet, while also adding a touch of flair to your space. And when it comes to materials, there's no better choice than woven vinyl – not only is it easy to clean and maintain, but with Matace's top-quality products, you can trust that your rug will stand up to years of use. So why wait? Treat yourself and your kitchen to the comfort and style it deserves with a woven vinyl washable kitchen rug from Matace!