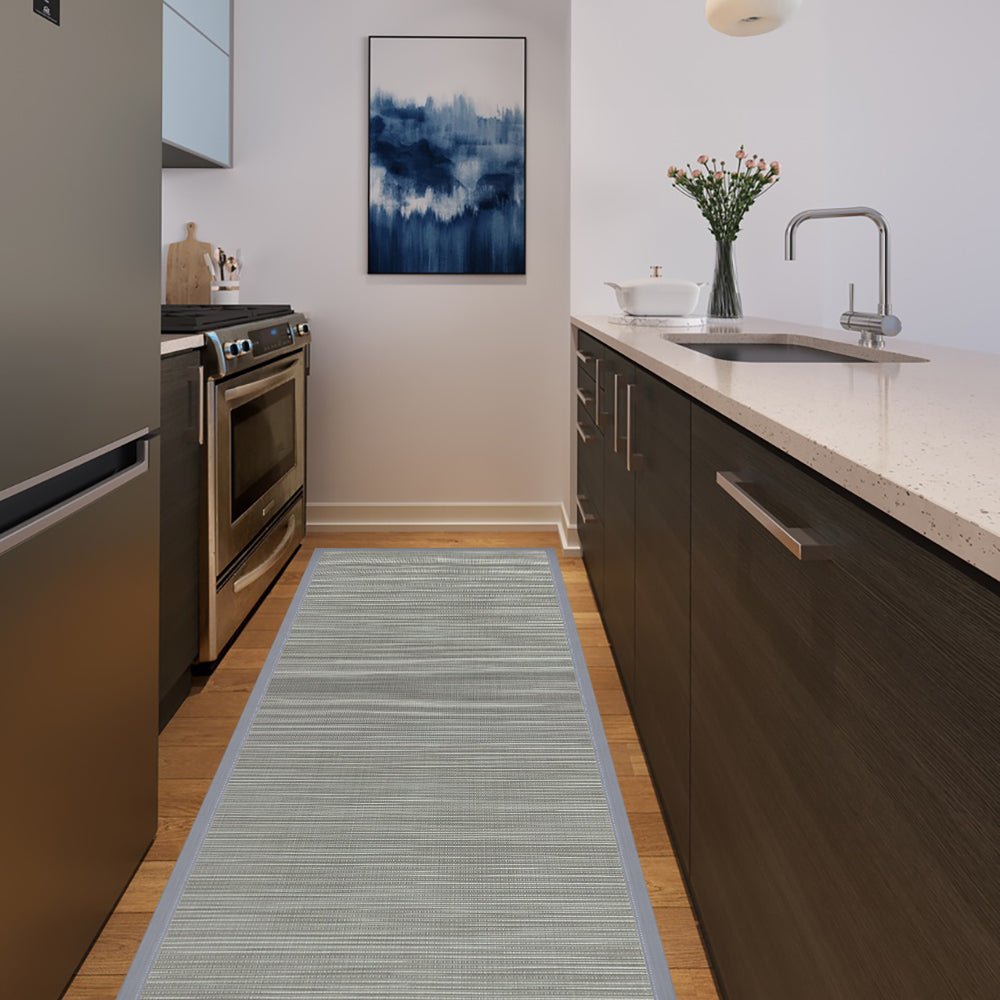 What is the best material for kitchen rugs?
A rug in the kitchen can be a terrific way to bring color, texture, and comfort to the area. Although it may seem illogical to add a rug to a place exposed to spillage and messes - The correct rug can improve the area without increasing your cleaning or maintenance duties. Similarly, the secret of perfect washable kitchen rugs lies in their material. Here is how to choose!
Why is material crucial when choosing kitchen rugs?
It is crucial to pick the proper material when picking a kitchen mat for your home. 
When you're in a kitchen, accidents are practically guaranteed to occur. Accidents are inevitable, from a pot boiling over while you weren't watching, a messy pet, melted ice falling out of the freezer, or a sloshed glass of liquid. Because of this, it's paramount to use materials that are either waterproof or easily cleaned.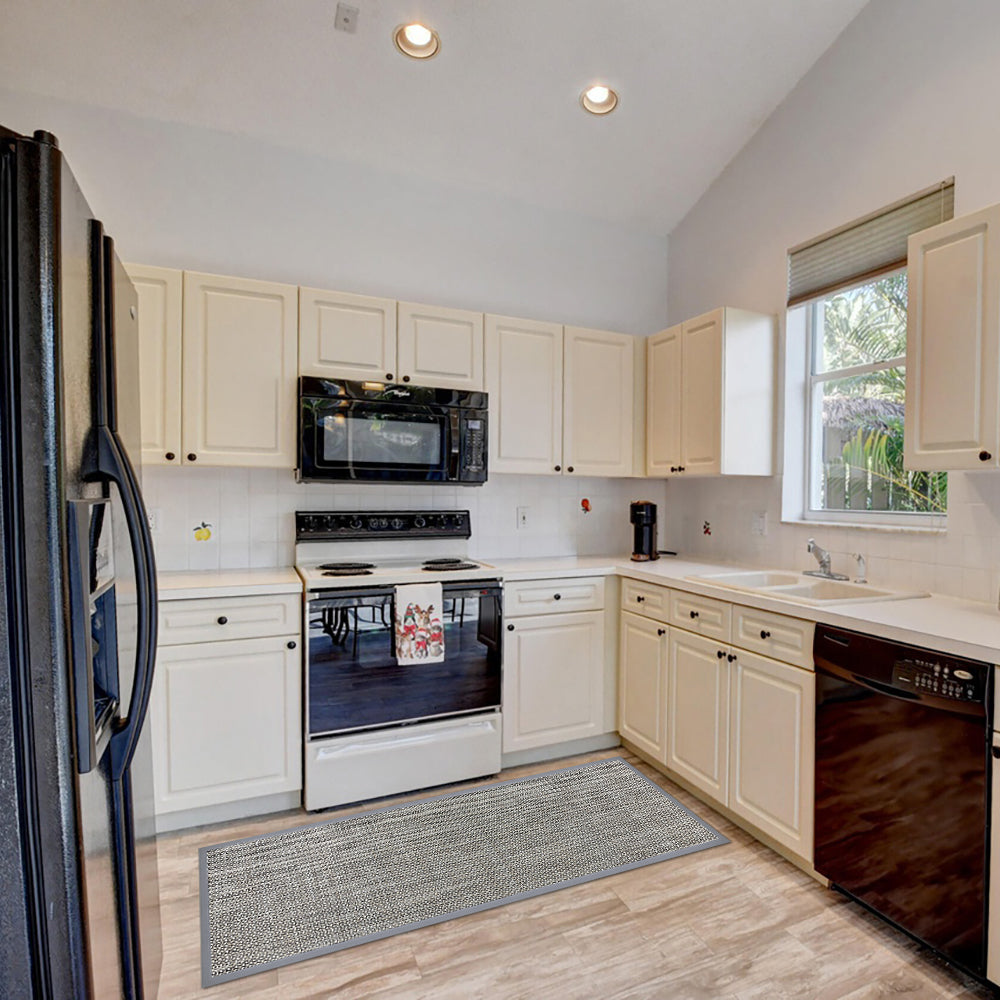 What materials are ideal for kitchen rugs?
In today's fast-paced and diversified lifestyles, there are several options for kitchen rugs. 
However, they are not created equal and have their pros and cons. The following materials are the top choices:
Polypropylene
It is another great choice for kitchen rugs because it is synthetic. It can keep its softness and look for extended periods.
Due to their machine-made nature, polypropylene kitchen rugs are among the least expensive flooring solutions.
Also, polypropylene mats have the added benefit of being waterproof. 
Furthermore, polypropylene does not absorb moisture. 
Lastly, this makes removing any stains caused by liquids simple, making these rugs a good option for a kitchen.
PVC/Vinyl
Another excellent option is choosing PVC or Vinyl material for your kitchen rugs. 
Also, they can be used both indoors and out, and they can be cleaned. In addition, they are ideal for high-traffic locations where hardwood floors need protection.
Finally, because of their non-slippery nature, they can be a good material for kitchen usage.
Woven Vinyl [the ultimate choice]
It is modern, looks classy, and is the most suitable material to choose if you are browsing washable kitchen rugs. 
Woven vinyl is a new material ideal for kitchen floors. It blends the classic look of woven carpets with the durability of PVC.
At Matace, there is a sale of washable kitchen rugs. Also, Matace offers various colors and sizes.
Waterproof, non-slip, and exceptionally hard-wearing, these woven vinyl rugs replicate the appearance and feel of tightly knit natural Sisal or seagrass.
Finally, the primary perks of the woven vinyl rugs that make them the ideal choice for a kitchen are:
They are hard-wearing

Stain resistant

Long-lasting

Durable

They look new even after years of usage

They are washable [only by hands]

They are non-slippery

They are waterproof
Other materials
Other materials that you may want to consider for kitchen rugs are:
Polyester

Sisal

Bamboo

Nylon

Jute

Cotton
What to consider when choosing kitchen rugs?
Don't buy a kitchen rug without considering the following factors:
Size of the rug
Getting the appropriate measurement for your kitchen when shopping for a rug. 
Naturally, a larger rug will be needed for a larger kitchen. A smaller rug can create a cozy and pleasant atmosphere in a smaller kitchen. 
However, the dimensions of your kitchen rug should be determined by several factors, including its eventual placement, your kitchen layout, and the aesthetic you hope to achieve.
Additionally, a kitchen rug can divide up space on the floor and conceal spills around the range and sink. Quite a bit of your time will be spent standing in these spots, especially if you're making dinner for yourself or your family! 
A little rug is a fantastic option to ensure your shoes have a nice place to stand without taking up too much room in the kitchen. If you like to see your flooring, this style is perfect.
The look and style
This advice is useful when selecting any carpet for your house. Still, it is especially crucial when choosing a rug for your kitchen. 
So, picking a rug for your kitchen that works harmoniously with the room's current style is essential.
Selecting a mat in a single color that does not compete with the room's other bright elements is ideal if your kitchen contains colorful cabinets and furniture.
The Safety
More than any other room in the house, the kitchen requires a vigilant eye on safety.
So, always buy non-slippery kitchen rugs. This way, you and your loved ones will stay protected and avoid accidents.
Finally, woven vinyl kitchen rugs are a great choice in the non-slip category. Here you can get them.
Pick Rugs That Can Be Cleaned Quickly and Easily
Kitchen messes are unavoidable, what with your dog's messy eating style and your occasional Emeril-like seasoning. 
It's smart to shop for kitchen rugs made of stain-resistant materials that are also simple to clean.
For instance, woven vinyl rugs at Matace are stain-resistant and easier to clean. Please note that they need to be washed by hand.
The price factor
The rug's final price is, of course, entirely up to you. However, the final cost of your brand-new and gorgeous kitchen carpeting will depend on a few specific variables. These factors include:
The size

The material

The brand
A great choice for quality, brand, material, and the price is to shop for your rugs at Matace. Check out the products now!
Conclusion
Looking for a way to spruce up your kitchen while also ensuring safety and convenience? Look no further than kitchen rugs! With hard floors being the norm in modern kitchens, a stylish and durable rug can provide a soft and welcoming surface for your feet, while also adding a touch of flair to your space. And when it comes to materials, there's no better choice than woven vinyl – not only is it easy to clean and maintain, but with Matace's top-quality products, you can trust that your rug will stand up to years of use. So why wait? Treat yourself and your kitchen to the comfort and style it deserves with a woven vinyl washable kitchen rug from Matace!