What Is the Difference Between a Rug and a Carpet?
The difference between a rug and a carpet involves mobility. Carpets provide wall-to-wall floor coverage, with the materials stretched and affixed to the floor. Glue, padding, and tacks often secure it for ongoing use.[1]

Although rugs can also provide wall-to-wall coverage for a room, the materials aren't tacked to the floor. Many people use anti-skid products and pads underneath rugs in open spaces to prevent them from moving, but it isn't a permanent fixture.[2]

You can also pick rugs to be of different sizes. Standard options include 4x6 feet, 7x8 feet, and 12x18 feet.[3]

Those options provide one extreme or the other for homeowners and business owners. When you use removable carpet tiles to handle your flooring needs, you can receive the best of both worlds.

What Are Area Rugs?

Area rugs function like carpets, but they only cover a specific part of the floor in a room. Many people place furniture on top of them to prevent them from moving.

If you have an area rug for bedroom needs, it might be centered under the bed as a design element. You could choose smaller sizes for your walkways to enhance the total floor coverage of your design.

That means an area rug serves two purposes. It works to define or accent a room or specific space while providing a décor option.[4]

The same principle applies when looking at the difference between rugs vs. carpets. Although area rugs are often secured from the top by a couch or table, they can still easily move to a new location. A carpet installation stretching from wall to wall would be a semi-permanent product that could be damaged if moved.

Removable carpet tiles in the form of carpet tiles delivers the benefits of both. You can switch your look whenever you want while having the comfort and convenience of a stretched product.

Why Does the Difference Between Carpet and Rug Installations Matter?

The floor quality of a house or commercial building directly contributes to the structure's value. If you were to install wall-to-wall carpet over a hardwood floor, you could damage an asset that might drive your equity or assessment down.

When you have removable carpet to install, you don't need to worry about glue or tape. With this durable, stain-resistant product, you can spruce up a room, an office, or an entire home. Anti-slip backing ensures you receive a secure installation while you can pick color combinations that make each area feel like you have a beautiful area rug installed.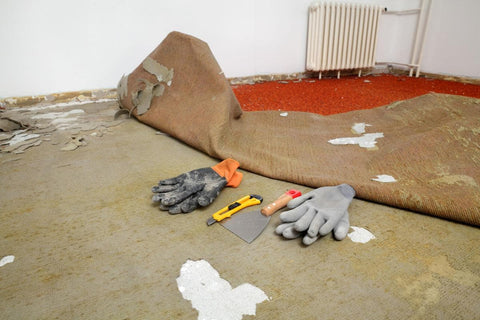 As time passes, carpets and rugs eventually wear out. If you have a semi-permanent installation, the old product must get removed from the room. That might entail cutting the old carpeting into strips, removing old padding, and cleaning the subfloor. New tacks might be necessary to maintain the quality of flooring.[5] It ends up being a lot of extra labor.

With removable carpet tiles, you can install a new carpet for bedroom use in no time. Pull up the old ones, change the pattern, and reinstall them. When done correctly, they look and function just like regular carpeting.

If you're exploring the difference between rug and carpet installations, consider removable carpeting. You can get a wall-to-wall look that gives you more options.
[1] How to Install Carpet (with Pictures) - wikiHow
[2] Why You Need a Rug Pad Under Your Area Rugs | Apartment Therapy
[3] How to Select the Right Size Area Rug (thespruce.com)
[4] Does Your Room Need a Bigger Rug? (houzz.com)