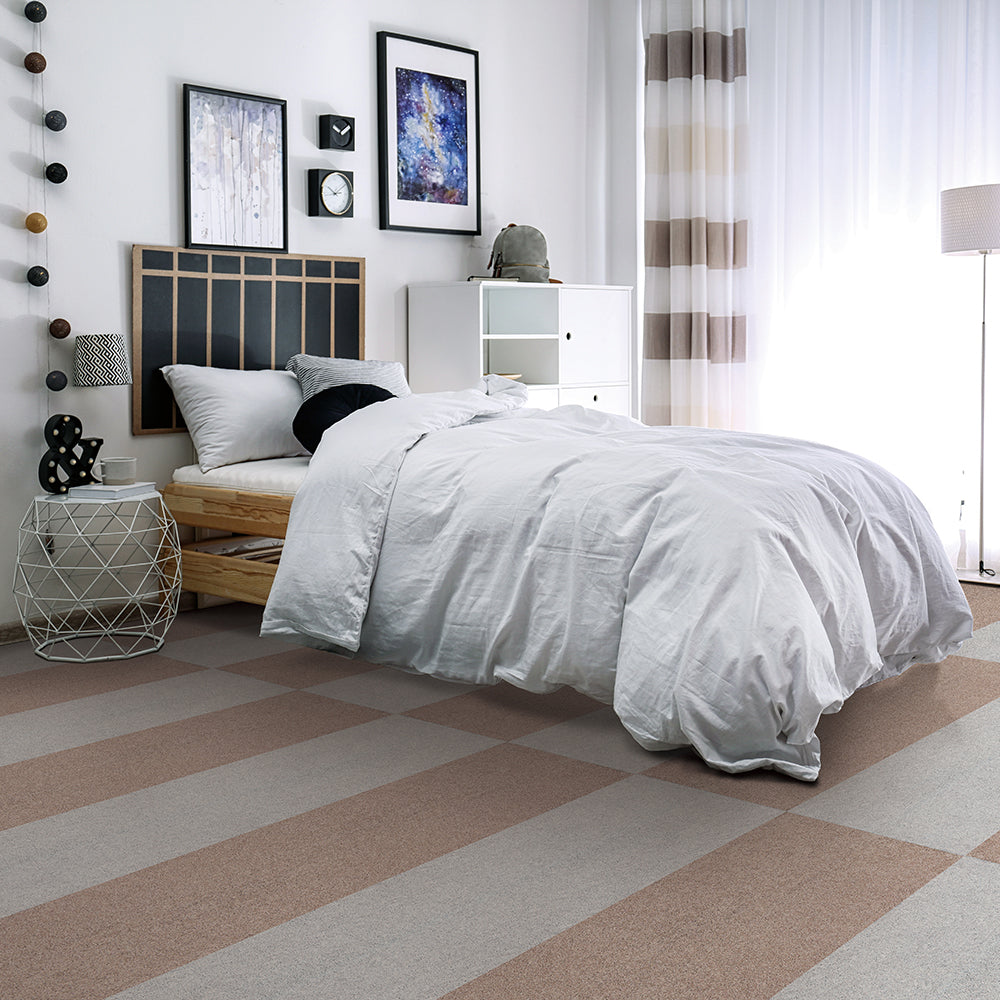 What's the Best Carpet Tiles for the Bedroom?
When it comes to bedroom interior design, flooring is an important element that should not be overlooked. The flooring material you choose can significantly impact the overall visual appeal, comfort, and functionality of your bedroom. Many homeowners ask whether bedroom carpet tiles can be used, and the answer is a resounding yes. Bedroom carpet tiles, such as the removable options offered by Matace, can be easily installed and add warmth and texture to the space.
What are carpet tiles?
What are carpet tiles, and how do they differ from carpets in general?
Carpet tiles, or "carpet squares," is a type of carpet formed by layers of fibres glued together to create a second layer. This layering process makes it stronger and more reinforced than normal carpet rugs. It is cut into square forms or tiles and is pieced together when installed on the floor. Carpet tiles are designed as easy-to-install tiles to add warmth to cold hard flooring.  
Aside from its practicality, carpet tiles are also a great addition to a bedroom if you want to add splashes of color and style to the space because they are available in various patterns ranging from colorful to neutral.
Due to their effectiveness, longevity, and ease of maintenance, carpet tiles are frequently chosen for offices, classrooms, and many industrial locations. There's basically no reason why they are not a good addition to the bedroom.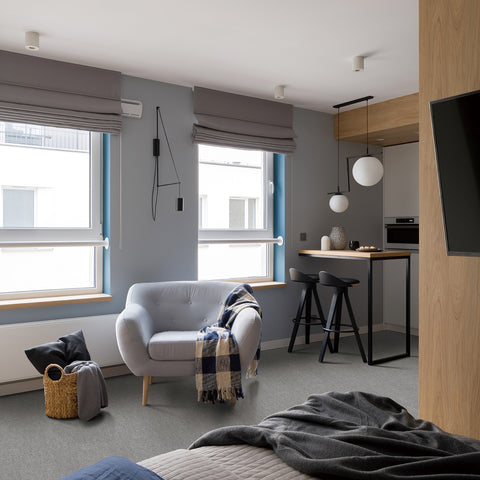 How to decide how many carpet tiles are needed for your bedroom?
Deciding to put carpet tiles is far way different than laying a carpet rug over because you need to figure out how many tiles you actually need to cover all areas or a particular area of the room. You need to consider the size of the carpet tiles as well as the size of the room.
Take special note of the sizes of the tiles you want to order because not all carpet tiles have the same dimensions. For example, Matace carpet tiles are available in a larger size of 9.84'' x 39.37'' and carpet squares are available in a size of 19.69'' x 19.69''.
To determine how many Matace carpet tiles or carpet squares you will need, you can use the normal size range of tiles commonly used for calculation. For example, if your room is 25 square meters, which is approximately 269.098 square feet, you will need approximately 100 Matace carpet tiles or 216 carpet squares to cover the entire area of the room.
If your room has more than 4 walls, you can break the area into sections and measure each section one by one before calculating how many tiles or squares each section will require.
It's always a good idea to purchase a few extra tiles or squares to ensure that you have enough to complete the installation without having to order more.
Where to place the carpet tiles in your bedroom?
Where to place the carpet tiles in your bedroom depends on your preferences. To give you an initial idea, there are two common areas where you can place carpet tiles in the bedroom. You can install them under your bed with an extra one or two rows from the edge of the bed, quite similar to how a carpet rug is positioned. You are basically replacing a rug with carpet tiles when placing them in this manner.
Another option is filling the entire bedroom floor with carpet tiles. If you want a uniform look or to hide stains and scratches on your existing bedroom floor, covering them entirely with new carpet tiles will enhance the visual appearance of the bedroom. Note that choosing the latter will also cost more, considering you need more tiles.
The best materials and patterns for bedroom carpet tiles
Consider the type of fibers used to make the carpet tile to make an informed decision on what carpet tile to purchase, considering the characteristics of each material. Carpet tiles are available in a variety of materials. The most common materials are the following:
If what you are looking for is an affordable yet modest option, go for carpet tiles made of polyester. It is durable, stain-resistant, and comfortable. New designs and structural advancements have been made in the past years, and more modified and quality polyester-made tiles are available in the market now. One of the advantages of polyester carpet tiles is their versatility to blend in almost any interior design color scheme.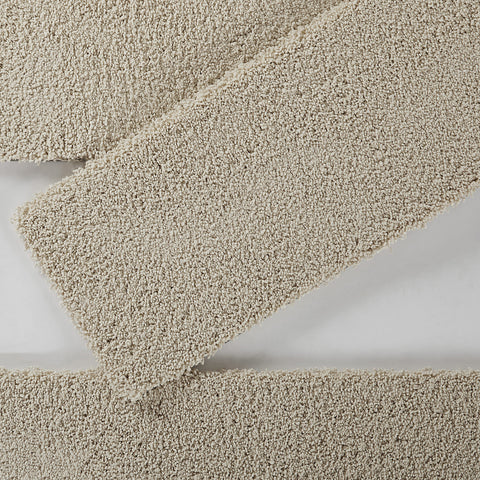 Polypropylene carpet tiles are lightweight, easy to clean and maintain. The fibers used in the production of carpet squares are also resistant to mildew, which makes them an ideal choice for high-humidity areas. The material is also water-resistant, making it suitable for use in areas that are exposed to spills and other moisture. So you can consider it for your basements, living rooms.
Recycled Materials
One key factor that makes an interior design composition considered good design is its sustainable elements. If you are big on sustainability, carpet tiles made of recycled materials are a good option. These tiles are made of industrial nylon waste processed to create a carpet tile. Like other materials, carpet tiles made of recycled materials are also highly durable.
Conclusion
The common perception that bedroom carpet tiles are less comfortable compared to traditional broadloom carpets has been around for a while. While this may have been true in the past, many modern carpet tiles, including removable carpet options from Matace, now come with built-in cushion backings that provide enhanced comfort, insulation, and anti-fatigue properties, rendering this argument outdated.
Carpet tiles are the right flooring solution if the following applies to you.
1. You are looking for an easy flooring solution to install yourself.
2. You are looking for a cost-effective yet valuable way to transform the look of your bedroom.
3. You want to add style and color to your bedroom.
4. If you want a simple, easy flooring solution to repair and maintain, carpet tiles are the way to go.