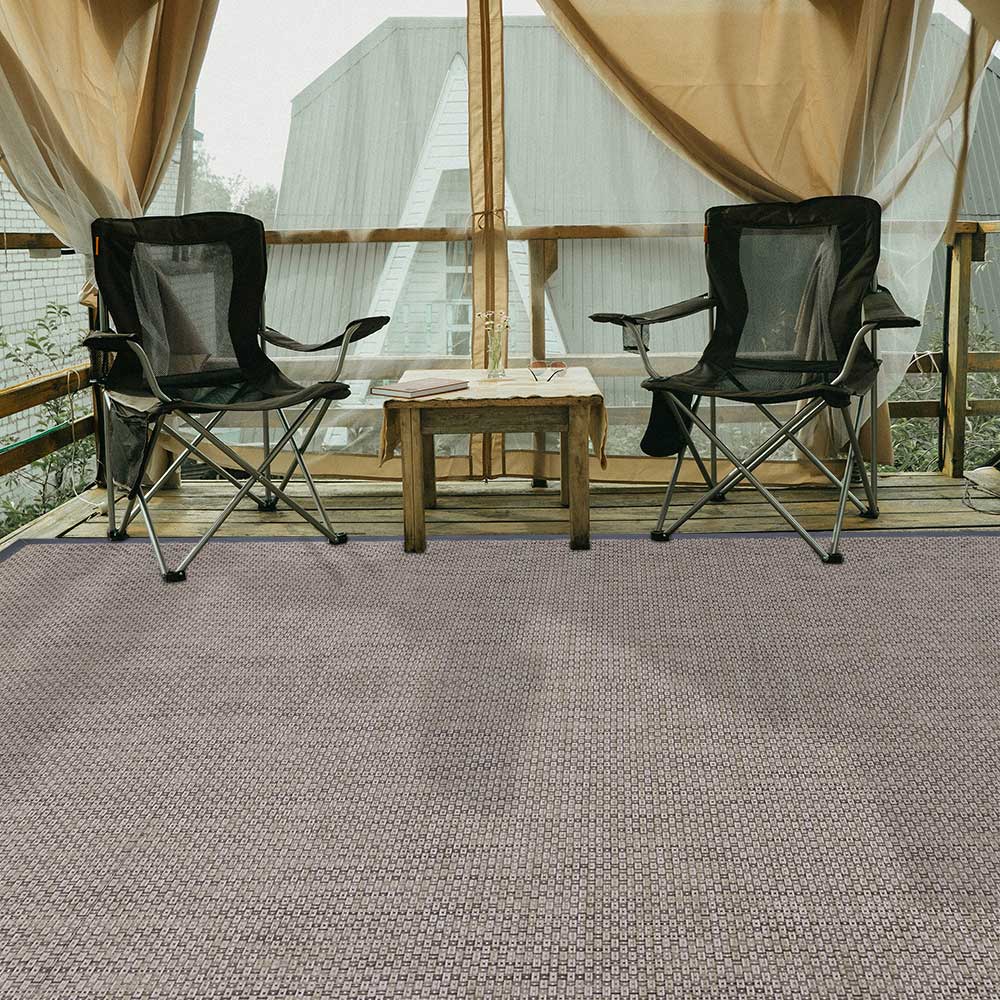 What Should I Pay Attention to When Buying Outdoor Rugs?
If you're looking to buy outdoor rugs and wondering what to consider, you are not alone. Many people can't figure out what to look for in outdoor rugs.
Outdoor rugs are a great addition to outdoor areas for many reasons. Today, many homeowners seek to create outdoor spaces that feel just as livable as indoor living spaces. 5x7 outdoor rug provide the foundation for improving the general outlook of outdoor living spaces such as patios, balconies, decks, porches, and backyards. High-quality outdoor rugs can transform your space into a cozy area and create a polished look. 5x7 outdoor rug are available in various materials, designs, and colors. Therefore, choosing the right outdoor rugs for your needs can be overwhelming, especially if it's your first time shopping for rugs. Remember, outdoor areas face the wrath of Mother Nature nearly all year round, so not just any rug will do.
At Matace, we offer a wide range of removable outdoor rugs and carpet tiles at affordable prices. Let's walk you through some things to consider when you're in the market for 5 x7 outdoor rugs.
Where Will It Go?
Are you planning to add a touch of style to your outdoor space with a beautiful rug? If so, it's essential to choose the right one for your needs. You need to consider the surface where you'll place it, whether it's a concrete patio, a wood-stained deck, grassy area, or a tiled outdoor space.

To ensure the longevity of your outdoor rug, it's crucial to select one that can withstand the elements. At Matace, we offer top-quality 5x7 outdoor rug made of woven vinyl that boasts high abrasion and stain resistance. Our rugs also feature a water-resistant backing, making them perfect for areas prone to moisture, such as concrete and grass surfaces.

Our 5x7 outdoor rug are not only functional but also stylish, adding a touch of elegance to any outdoor space. They are versatile and can be used on a variety of surfaces, including wood-stained decks, tiles, and many other outdoor areas. Don't compromise on style and functionality; choose Matace outdoor rugs today!
What Size Do You Need?
When it comes to choosing the perfect outdoor rug, size is a crucial factor to consider. Fortunately, there's no shortage of options available to buyers in terms of size. However, finding the right size for your needs can be a daunting task. So, how do you go about it?
First, you'll need to think about where you plan on using the rug. If you want your furniture to sit on the rug, then a larger size is the way to go. Look for rugs that extend at least six inches beyond your furniture or even a few feet to create a spacious and cohesive look. On the other hand, if you're working with a smaller space like a narrow balcony or a coffee table area, a smaller rug that runs the length of the space will create an inviting atmosphere without feeling cramped.
At Matace, we understand the importance of having the right size rug for your outdoor space. That's why we offer a wide range of sizes to choose from, including 2.5'x7' Runner, 6'x9', 5'x7', 2'x3', and 6' Round. Whatever your size requirements, we've got you covered.
Are The Outdoor Rugs Easy to Clean?
If you're considering an outdoor rug for your patio or backyard, you might be wondering about its maintenance. The good news is that high-quality outdoor rugs are designed to be easy to clean and maintain. At Matace, our 5x7 rugs are especially convenient thanks to the Mecko Baking System. Even if a drink spills on the rug, you can quickly clean it up without any hassle. With our outdoor rugs, you can enjoy the great outdoors without worrying about constant cleaning or maintenance. So go ahead and add some style and comfort to your outdoor space with a rug from Matace.
Are The Outdoor Rugs Sustainably Made?
Are you looking for an outdoor rug but also want to make sure that it's sustainably made? It's important to consider the materials used in the rug's production and whether they were responsibly sourced. As global citizens, we all have a responsibility to protect our planet, and purchasing eco-friendly and sustainable products is one way to do so. Here at Matace, we prioritize sustainability and guarantee that all of our rugs and carpet tiles are sustainably made. So, you can enjoy your outdoor space while also being environmentally conscious.
What's Your Budget?
Are you in the market for an outdoor rug, but not sure what to expect in terms of cost? The average price range for outdoor rugs is between $100 to $500, depending on size, style, material, and construction. At Matace, we pride ourselves on providing high-quality outdoor rugs that are built to last. With our Mecko Backing System and top-notch materials, our 5X7 outdoor rugs are not only durable but also easy to clean and maintain. And the best part? Our prices won't break the bank! For example, our 5 x 7 outdoor rugs are priced at a reasonable $200 to $300 range, making them accessible to anyone looking to add some style and comfort to their outdoor living space. So, why settle for a subpar outdoor rug when you can have a long-lasting, beautiful one from Matace?
Where to Shop for Outdoor Rugs
Transforming your outdoor space with a stunning rug is a great way to spruce up your decor and add some personality to your outdoor living area. However, with so many options available online, it's essential to know where to shop for quality outdoor rugs. Don't fall for unscrupulous sellers who offer substandard rugs. Instead, take the time to research and find a reliable seller with a reputation for providing excellent products and customer service. Look for customer reviews and ratings online to get an idea of their reliability. Be cautious of sellers with overly low prices, as they may be trying to scam unsuspecting buyers. By doing your due diligence, you can find the perfect outdoor rug to elevate your space and create a stylish and inviting atmosphere.
Matace—Your One-Stop Shop for Outdoor Rugs
Looking to revamp your outdoor spaces with beautiful and durable rugs? Look no further than Matace - your one-stop-shop for all things outdoor rugs! With a wide range of woven vinyl outdoor rugs available, starting at just $89.99, our collection is perfect for those who want comfort, quality, and affordability.
Our outdoor rugs are not only easy to clean, but they also offer superior stain resistance, making them the ideal choice for high-traffic areas. Plus, with their long-lasting durability, you can be sure that they will withstand the elements and continue to look great for years to come.
At Matace, we pride ourselves on offering a fantastic selection of removable carpet tiles and area rugs to suit any style or budget. So why wait? Transform your outdoor spaces today and give us a call to place your order. Alternatively, head over to our website to browse our range and find the perfect rug for your home.