Which Carpet Colors Complement Walls the Best? Dark or Light?
The fact that designers often refer carpets to "the fifth wall" of a home illustrates how crucial they are in soft outfit design. Therefore, it is usually recommended to start with carpets when it comes to this design. Now, there is a wide selection of carpet colors, which can be determined based on your lifestyle, aesthetic preferences, and so on. Please read on if you are curious whether it should be brighter or darker than the wall. We have researched the color theory, how the human brain reacts to color and how the color of a carpet constructs a visual-spatial sense. Once the carpet is chosen, the style of the soft outfit design will be basically determined.
Carpets of Light Colors
We suggest you consider light carpets if you have limited space at home, such as beige, cream, pink, light grey, etc. The reason is that these colors not only make the home more vibrant but also make it look more spacious. If you want your home to have a feeling of spaciousness, comfort, and tranquility, a light carpet is still recommended. In fact, light carpets have been a prime choice for many people. There are several kinds of light carpets, such as wall-to-wall carpets, peel and stick carpets and removable carpet squares, and so on. It is not difficult to create a vibrant home – as long as you match the carpet with the walls well, you will have the home you want.
If your home has excellent lighting, a carpet of a cold color will make it tranquil and pleasant. It has been a trend in recent years to use colors with a low saturation in visual design. The colors have a low purity, which makes users feel not very exhausted after long use. Handmade carpets with a low saturation are a rarity. As for now, most carpets are machine-made as handmade carpets are extremely costly. They originated from nomads who lived by the water and in grassland. In an empty natural space, colorful carpets can reduce the dullness brought by the simple natural environment. However, colors with low saturation also match modern home decoration styles very well. If you wish to create a totally peaceful space, carpets with a low saturation are the best choice. A space filled with a single-color tone of low saturation gives out a cool vibe, which is certainly a pure place to comfort a person's mind.
Carpets of Dark Colors
Dark carpets suit larger rooms better. Brown, grey and blue is among the good choices. Dark carpets bring dreamlike effects. Therefore, you can consider installing them in areas that are in contact with many people. Design a spacious living room or dining room with brown and grey carpets. The color combination is favored by many people. Choose a gentle color – a blue, green, or cream plush carpet for a quiet bedroom or study room. In addition, you can create harmony between the walls and the carpet using complementary colors. If you have light walls, dark carpets can make the room seem bigger. The texture of the carpet can also add visual interest to a big house, which usually makes people feel more comfortable. Please pay attention to the color of your carpet, its texture, and its shape as it is essential when it comes to how they reflect the light and carry the flow of the people.
Multi-color Carpets
In fact, designers are fonder of multi-color carpets, because they are simple and at the same time, look high-end, which greatly improves the aesthetic of your home. However, they are expensive and difficult to choose from. There is an exception, nonetheless. Removable Carpet Squares is an affordable carpet that can let you put together the colors freely. The bottom of it is made of special backing material.
What is the Mecko Backing System?
The Mecko Backing System is a unique addition to the carpet world that works effortlessly with Matace removable carpet tiles. Offering an entirely new approach to installing, removing, and cleaning carpets, this backing system puts you in complete control of the carpet in your home. With this system, you can enjoy all the benefits of traditional carpets with none of the setbacks!
How Does the Mecko Backing System Work?
This incredible system, which was inspired by refrigerator magnets, removes the need for glue and tape entirely. By simplifying the process, Matace carpet ensures that homeowners can effortlessly manage their own carpet needs at their convenience. Providing the same structure and support as traditional carpet installation but making it easier to manage, the Mecko carpet backing system is built around a newly designed connection system.
Behind the Mecko Backing System is the Molecular Gravity principle. This means that when the removable carpet tiles are installed on the floor, they are nearly impossible to move horizontally—but from a vertical position, picking them up is very easy. The carpet stays firmly adhered to the floor without needing to rely on traditional chemical adhesives. It is all in the system with no base needed! Please read on, you will find that you can match the carpet with the walls perfectly.
What Is the Most Universal Carpet Color?
It is hard for carpets to be as neutral as wooden floors, but green carpets are the most universal ones for most people. Certainly, green carpet squares are also exciting.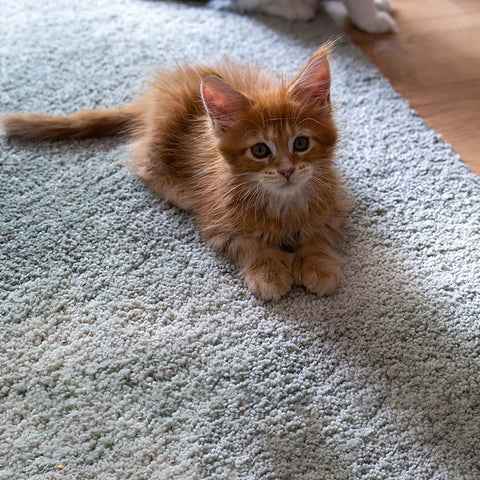 What Is the Easiest Carpet to Be Kept Clean?
Brown carpets. Brown is one of the best colors for hiding dirt. The deeper the shade is, the easier it is for the dirt to blend into the carpet. The dust is not defined against brown. Although light colors can be an attractive choice, they do not hide dirt as much. If you like light carpets and want the carpet to be easy to clean, Matace can fulfill your wish. They have carpet squares liked by many people!
The texture of the carpet can alter the color of the room to some extent. A textured round pile carpet can create an effect in which the color tone gradually changes. Comparably, carpets with smooth surfaces look lighter. A carpet with ribbing seems to have a change in color naturally as it is good at capturing the way the light is reflected. The tailoring and the rings on the carpet add a great deal of visual interest because their different way of combing the fiber changes the way people sense the colors.
Apart from the color match between the carpet and the walls and the carpet texture, we also need to consider the cleaning issue when choosing a carpet. As you know, it is an essential part when using a carpet. For some carpets, it is extremely troublesome to clean and professional cleaning is even needed. The cost of the service can reach the price of carpet installation. Therefore, we recommend the removable carpet from Matace. Not only do they have an abundant selection of colors and textures, but also their carpets are removable carpet squares or carpet tiles. We can DIY the installation quickly to have the shape and pattern we like. They are comfortable as well as aesthetic. You can also save on the cost of installation.
Why Matace is the Best Choice?
Carpet tiles are also washable, which can be cleaned at home instead of hiring a cleaning team.
Matace Removable Carpet uses special backing material, which is made of polymer materials and utilizes the physics behind Molecular Gravity. It allows the carpets to be able to suck onto the floors like Gecko, instead of using any type of adhesives or tapes. It will not damage your floor or leave marks behind. The surface of Matace carpet is made of stain-resistant fibers, and general stains can be rinsed off with clean water. If you spill something on the carpet, you can easily just replace that one piece instead of worrying about cleaning the entire carpet.
So Matace Removable Carpet is your ideal choice! Come to Matace and choose a carpet that suits your home.
Tips for carpets:
Categorized by texture, there is pure wool carpet, blended carpet, chemical fiber carpet, plastic carpet, straw rug, etc.; categorized by surface fiber, there is round pile carpet, velvet carpet, and loop pile carpet; categorized by workmanship, there is handmade carpet and machine-made carpet.
By surface fiber:
Round pile carpet: the yarn is clustered on the main backing fabric, forming an uneven surface. Because the cluster is so tight, it is suitable for areas where people step on frequently. It is wear-resistant and easy to maintain. It suits areas that are in contact with many people, such as the living room. Partition the loops on a round pile carpet, a velvet carpet is born.
Velvet carpet: it has a very smooth surface; the velvet feeling is also greatly improved. It blends appearance with usability very well. However, it is less wear-resistant than a round pile carpet. It is suitable for areas with fewer people, such as bedrooms and study rooms.
Loop pile carpet: the combination of a round pile carpet and a velvet carpet.
By workmanship:
Handmade carpet: knitted with premium wool by hand. Every wool yarn is double-looped, and a knot is tied to it. Therefore, the carpet is exquisite and solid. It is comparably expensive.
Machine-made carpet: a machine-made carpet falls into 2 types – woven carpet and tufted carpet, with respective features. A woven carpet's workmanship derives from handmade carpet, making the carpet solid and with abundant patterns; a tufted carpet is made of backing fabric using the tufting method. Nowadays, machine-made carpets can totally replace hand-made carpets. to a large extent, people do not have to worry about spending too much on hand-made carpets.
Textures of carpets
Pure wool carpet: pure wool carpets are usually made of sheep wool. Most pure wool carpets use native sheep wool as the material. Some factories mix native sheep wool with imported wool fiber, highlighting the advantages that imported wool fiber is thin and bright, which has achieved great results.
Blended carpet: blended carpets are carpets that are made of pure wool fiber and various kinds of synthetic fibers such as nylon, chinlon, and so on. In a blended carpet, the wool comprises 20-80%. If it is lower than 20%, it is called a chemical fiber carpet. Higher than 80%, it is called wool carpet.
 Chemical fiber carpet: a chemical fiber carpet is made of chemical fibers such as chinlon, polypropylene fiber, polyacrylic fiber, polyester, etc. Make a fiber surface using the tufting method and then sew a carpet on a linen base. It is also known as a synthetic fiber carpet.