Why are Carpet Squares the Best Choice for Basements?
Homes that feature basements are simply the best! You get a lot of additional space; the best part is that you can utilize this space in many different ways. Gone are the days when basements were only for storage. These days, people are coming up with creative ideas and using the basement space for all kinds of things. 
If designed well, you can convert your basement into anything - a library, a game room, a home bar, a wine cellar, a home theater, a gym, or literally anything you want it to be! Using your basement for storage doesn't require a significant interior investment. But if you're using it for anything other than just storage, you need to ensure the interiors of your basement are done well.
Flooring is one important aspect of basement interiors - and that's what we'll be talking about in this post. Let's find out more:
Materials Typically Used in Flooring
Laminate, hardwood, tile, stone, carpet, and vinyl are often preferred when it comes to home flooring - and people usually stick to the same material for the basement. Each of these materials comes with a set of advantages, but also has its cons - let us run you through the pros and cons of each flooring material so that you can make an informed choice:
Laminate
Laminate is an affordable basement flooring material that gives your basement a polished, elegant look. Laminate flooring is a great pick if you're looking for budget-friendly options. It's easy to install, durable, and can sustain for quite a long time with minimum maintenance and care. On the other hand, laminate, too, comes with its disadvantages - it is susceptible to mixture damage and is a single-use product. 
Hardwood
Hardwood flooring looks super elegant and chic and can instantly elevate the entire vibe of your basement. If you're using hardwood for the rest of your house, it only seems an obvious choice to continue with the same flooring material for your basement. But the downside of hardwood is that it is prone to water damage and mold and will warp if not maintained well.
Tile 
Ceramic tiles add a classy touch to your basement. It is durable and waterproof and will not get damaged even when exposed to moisture and flooding frequently. Installing ceramic tiles is easy, and you can do it yourself. But tile has its set of disadvantages - it has poor sound insulation and is very difficult to remove/replace. 
Stone
Stone is the best pick if you're looking for a tough, durable basement flooring material. Stone flooring can sustain heavy footfall without showing signs of damage. It also adds a stunning, natural look to your home and can easily blend in with different interior decor themes. Some cons of stone flooring for the basement are that it's expensive and requires regular care and maintenance. The porosity of stone makes it susceptible to damage from liquid spills too. 
Carpet
Carpets can instantly turn your basement into a warm, cozy, and comfortable space. But the real problem with carpets is mold. Basements tend to be damp, and mold is unavoidable in damp spaces. This is where we recommend that you choose a carpet with a specially constructed structure at the bottom, and then the carpet is washable and preferably also removable.
Vinyl
Vinyl is another popular material used for flooring in homes and basements. Vinyl is waterproof and durable, making it apt for basements. You also have many styles, colors, and tile sizes to choose from in the vinyl flooring. Even though vinyl is 100% waterproof, frequent and excessive water exposure will damage the basement flooring. Also, vinyl is affixed on the flooring using glue - so if you're looking to change the flooring of your basement, getting rid of the vinyl stuck on will be a huge task.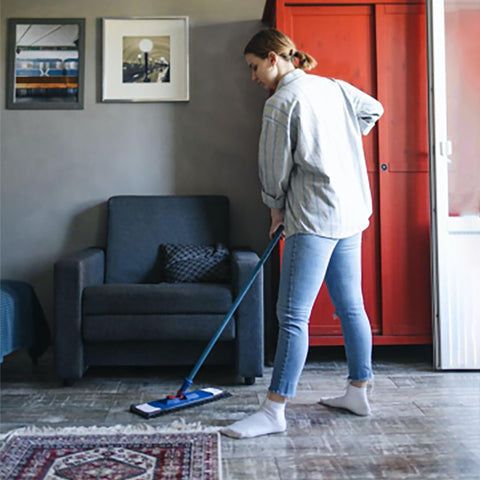 Why are Carpet Squares the Best Option?
All of the flooring materials we mentioned have their disadvantages. So if you're looking for a better and more feasible basement flooring alternative, you must consider carpet squares.
Carpet squares offer many benefits - the first and most important is that they are easy to install and maintain. You wouldn't even require glue to install the carpet squares for basement!  With carpet squares, you don't have to worry about accidental spills on the basement flooring, as these squares are easy to replace.
If you're looking for a good quality, reliable carpet square brand, you must consider Matace! Matace Removable Carpet Squares feature a special backing material, which is made of polymer. The carpet squares use molecular gravity's physics, ensuring they stay in place when installed on the basement flooring. 
The polymer backing allows the carpet squares to suck on the floors (just like a Gecko!). You wouldn't require any adhesives or tape to fix the carpet squares on the basement flooring - it's a super easy, non-messy process that you can do all by yourself too!
Unlike the other flooring materials we mentioned above, the carpet squares from Matace won't damage your floor or leave any marks behind. The surface of Matace carpet squares is made of stain-resistant fiber - so if you do end up spilling something on it, fret not! Rinse the carpet off with clean water.
And yes, the best part - if you spill something on the carpets and cannot get rid of the stubborn stain, you wouldn't have to replace the entire carpet. All you need to do is replace the one carpet square piece that's stained, and your carpet is squeaky clean like before!
Summing Up
We've listed everything you need to know about different basement flooring materials. We've also helped you understand why carpet squares perfectly fit basement flooring. Even when it comes to investing in carpet squares for basement, ensure you pick them from a reliable brand like Matace. And yes, if you're looking to renovate your basement, reach out to Matace with your inquiry - the team will get back to your query as soon as possible.