Are Beige Carpet Tiles in Style?
Carpet tiles are a great way to add carpeting to rooms in your house without the cost and commitment of regular wall-to-wall carpeting or solid wood flooring.
Today, carpets and carpet tiles come in many different colors to match various decor styles, but most people are looking for something a little more neutral. That's where beige carpeting comes into play. Not only is it very neutral, but it also adds some warmth and softness to the room.
Recently, however, people have wondered if beige carpet tiles are still in style. It's no question that this color has been the "go-to" choice for at least a few decades. But is it dated, or is it a timeless option for your home?
Here we'll talk more about beige carpet tiles and whether or not they're still in style.
So, Is Beige Carpeting In Style? The Short Answer
Yes! Beige carpet tiles are still in style. In fact, this color is one of the most popular colors ordered from Matace. Our beige carpet tiles are a simple and clean style that looks great in any room of the house.
So even though this color has been around for many years, it's not going anywhere soon. The good news is that because it's so neutral and versatile, you can style it in many ways.
Here are some ideas.
The Benefits Of Using Beige Carpeting
Aside from being one of the most neutral colors, beige carpeting is also an excellent option for several other reasons. For one thing, it shows dirt, pet hair, and dust much less than other colors. Opting for beige carpeting instead of white, light grey, or tan will work well in higher-traffic areas, like family rooms and kids' rooms. You won't have to worry about every little mark showing up, and your carpeting will look great for years to come.  
Use Color Schemes That Look Great With Beige Carpet Tiles
The idea that beige carpeting is bland or boring comes from the perception that if you have beige carpeting and beige walls, a room will seem institutional or like it doesn't have any personality. Since many homebuilders use these colors in new build homes, it's also become synonymous to many people as "builder's grade" colors.
The key to making beige carpeting work well is mixing it with other colors on the walls, furniture, or even the carpet tiles themselves. The great thing about beige carpet tiles is that you can mix and match them with other color tiles to create your own pattern or color scheme.
Here are some trendy and updated ways to use color properly in a room with beige carpet tiles.
Mix Beige Carpet Tiles With Other Colors
If you incorporate beige carpet tiles with some other more energetic colors, you'll have a pattern that looks great and shows some personality.
Try mixing the Matace beige carpet squares with a darker brown, green, or blue to create a fun checkerboard pattern for a child's bedroom or playroom. Or, you can use the carpet planks and alternate beige with white to create a preppy striped pattern.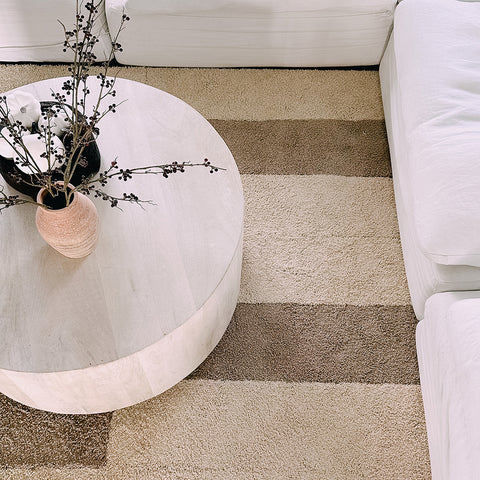 You can mix both carpet planks and carpet tiles to create a "color-blocked" look, which has become a stylish and unique way to add energy and interest to a room.
Finally, use different colored carpet planks to create a distinctive border around the beige carpet tiles in your room and add an element of interest.
The best thing about carpet tiles is that the color options are endless, and with a neutral like beige, you can make numerous fun combinations.
Choose Paint/Furniture Colors That Work Well With Beige
If you choose an all-beige color scheme for your carpet tiles, you'll want to choose paint colors on the wall and furniture that enhance the color and don't clash with it or look too bland. Some of the best wall and furniture colors to use with a beige carpet include the following.
Green
A light green color will work well with beige carpeting and give the room a sophisticated and happy look. Try a color like seafoam green, pistachio, or a minty green hue. These combinations of green and beige, either on the walls or with furniture, would create a relaxing environment for a bedroom.  
Blue
Blue is almost as neutral of color as beige. And with so many different shades to choose from, you can use blue walls as a way to add a color pop to your room without it feeling overwhelming or too bold. Shades of lighter blue always make a good choice, but you can also add some drama to the room by using a deep shade of navy or one that's almost midnight.
Gray
Gray walls work great with beige carpeting because gray is a cool-toned color, whereas beige has warm undertones. Warm undertones tend to make a room feel smaller, so if you want to make the space feel more open, gray is the go-to choice. Gray walls also leave room for the possibility of adding a nice pop of color to the room with some art or other accessories.
White
White walls with beige carpet tiles give the room a clean and cozy feeling. This color scheme works great in a bedroom, creating a blank canvas for other accessories, such as bedding or curtains. You can add a colorful throw rug over your beige carpet tiles to add texture and make the space cozier.
An important note about wall colors is to try to separate the paint and the carpet color by at least two shades to create some distinction. For example, try a light gray wall color for very warm beige carpeting or darker wall color for very light beige carpeting.
What Else Is Great About Beige Carpet Tiles?
Beige is one of the few colors that works exceptionally well with bold and bright furniture and accessories because it's like a blank canvas. Therefore, if you have a beige floor, you have nearly free rain to use bright throw pillows, blankets, artwork, and even colorful throw rugs.
These bright colors offset the neutral tones of the beige carpet tiles and make the furniture the focal point of the room. So, try anything really—pops of pinks, greens, blues. They all look great with beige carpets.
You can also find beige carpeting in many shades, from very light to warm. These variations allow you to choose the one that best matches the aesthetic and needs of your home. For example, if you have a tan-colored dog who sheds a lot, you may want to choose a warmer beige because it won't show the fur. However, if you're creating a relaxing primary bedroom, a lighter shade of beige will work well with the other textiles in the room.
Why Choose Matace Beige Carpet Tiles?
Now that you know beige carpeting is not going out of style, it's time to start planning and decorating your space! Matace has all the carpet tiles or planks you'll need to update any room in your house or apartment quickly.
We offer beige carpeting in both plush and frieze options as well, which give you the choice of whether you want a higher-profile or lower-profile carpet. Our carpet tiles are also easy to install and don't require any special tools, so you can start to enjoy your new room faster and without too much effort. We also sell a selection of area rugs to layer over your beige carpet tiles to enhance the style.