Woven Vinyl Rug: Choose the Perfect Rugs for Your Home
Woven vinyl rugs are known for their luxurious looks, premium quality, and sturdy construction, making them suitable for a wide range of uses. Whether you want to use them as a doormat to welcome guests, a focal point in your hallway, or an accent in your living room, woven vinyl rugs can add a touch of whimsy and practicality to any space.
Another benefit of a
woven vinyl rug
is durability. These rugs are safe for use on hardwood floors and finishes, making them a practical choice for homes with wood flooring. They provide a soft and comfortable surface for pets to walk on, and their sturdy construction means they can withstand a variety of lifestyles. Woven vinyl rugs are available in both indoor and outdoor varieties, and come in a range of shapes and sizes to suit any space. Whether you need a rug to cover a large area or simply want to add a touch of color and texture as an accent, there is a woven vinyl rug to fit your needs.
Fortunately, there are plenty of woven vinyl rugs for sale at places like
Matace
.
What is a woven vinyl rug?
A woven vinyl rug is made from vinyl material, which is a synthetic polymer. Vinyl is known for its versatility and attractive appearance, making it a popular choice for flooring because of its durability, resistance to moisture, and low maintenance requirements. Our woven vinyl collection features durable weaves made from vinyl, polyester, and other synthetic yarns, suitable for both indoor and outdoor use. The woven textures in this collection resemble natural fiber rugs, and the varied yarn colors create a multi-tonal effect."
Woven vinyl rugs are made by braiding strands of vinyl material together, creating a sturdy and long-lasting rug. They come in a range of colors, sizes, and shapes, making it easy to find one that fits your needs and style.
What are the benefits of woven vinyl?
Our woven vinyl floor coverings offer both style and functionality.
Woven vinyl is a hard-wearing material that can withstand heavy foot traffic and is resistant to staining, moisture, mold, and mildew.
Wipe woven vinyl rugs clean; no vacuuming or shampooing necessary.
Woven vinyl can be used in a wide range of settings, including homes, offices, commercial spaces, and outdoor areas.
Woven vinyl is easy to clean and maintain, making it a convenient choice for busy homes or commercial spaces.
Woven vinyl comes in a variety of colors and patterns, making it easy to find a design that matches your decor.
Some woven vinyl products are made with recycled materials and do not contain harmful chemicals, making them a more environmentally friendly choice.
These features make woven vinyl rugs an ideal choice for busy homes with children or pets, outdoor gathering spaces, or high-traffic commercial or hospitality areas. such as entryways, kitchens, and informal dining or living areas benefit from the protection and easy care of woven vinyl rugs. Muddy footprints (human, canine, or feline) won't leave stains and they can be quickly wiped away.
How to Pick a woven vinyl rug?
There are some areas of your home that endure a lot of traffic. Kids, pets, and enthusiastic gardeners can track dirt, mud, and leaves in, and can scratch, dent, or chip wood and tile floors. There's an easy way to both beautify and protect your floors. Consider adding a durable, easy-to-clean vinyl rug to your most-used rooms. There are many factors to take into account. Such as: size, color, material.
Sizing
After you find a design you have your eye on, you'll have to determine the best size for your room.
First, choose the place where you will put your woven vinyl rug. Common places are kitchens, dining areas, living rooms, and covered outdoor living areas.
Next, decide whether to use one statement rug or multiple coordinating rugs to cover different areas in the room.
Finally, decide what type of rug placement relative to the furniture you would like to use.
Standard Sizes
Typically, a vinyl rug will come in one of several standard sizes.
Rugs:
2 x 3 feet
5 x 7 feet
6 x 9 feet
Runners:
2.5 x 7 feet
Bedrooms Use
An interior design technique for using rugs in bedrooms is to position them underneath the bed, with about two-thirds of the bed resting on top of the rug. Make sure to extend the rug out far enough that you can step on it with both feet when getting out of bed.
This layout works well when you want to add a pop of color to a simple bedroom without making too many changes to the furniture, or if you have an awkward layout of doorways or architectural features that make it difficult to place a large rug.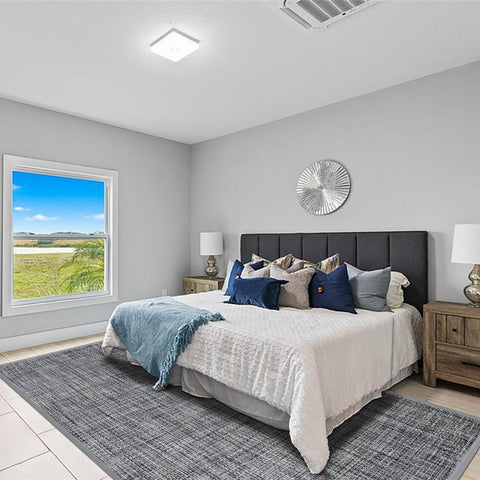 Outdoor Use
The same principles for selecting the size of a woven vinyl rug whether you're using it on your covered patio or inside your home. Consider using a larger rug to establish a focal point, and smaller rugs to complement accent chairs, planters, or a bar area.
Additionally, Vinyl rugs are a great option for entryways, both indoor and outdoor. This
outdoor area rugs
can enhance the look of your front porch or entry and keep them clean from muddy foot traffic.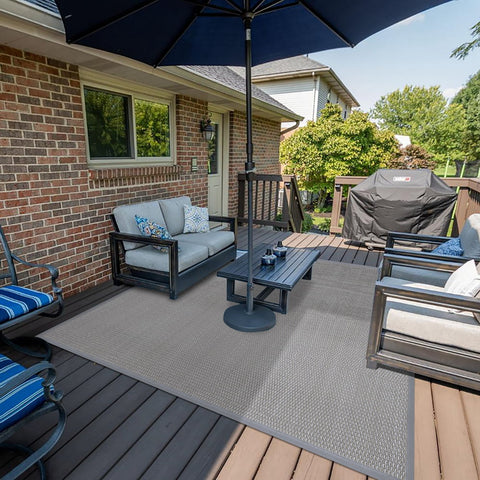 Are woven vinyl rugs easy to maintain?
Woven vinyl is prized for its easy maintenance. Regular vacuuming helps to keep dirt at bay, and wet mopping removes finer particles. Spills can be easily cleaned up with light soapy water, green cleansers, or even bleach solutions for bigger messes. A few towels for drying up moisture and your woven vinyl rug is ready for use. With proper care, these weaves are resistant to mold and mildew.
Conclusion
For hundreds of choices in woven vinyl rugs by size or color, please check on Matace's woven vinyl rug collection page. We're confident you'll find the perfect rug, in the perfect size, for your home.
Share
Comments
0