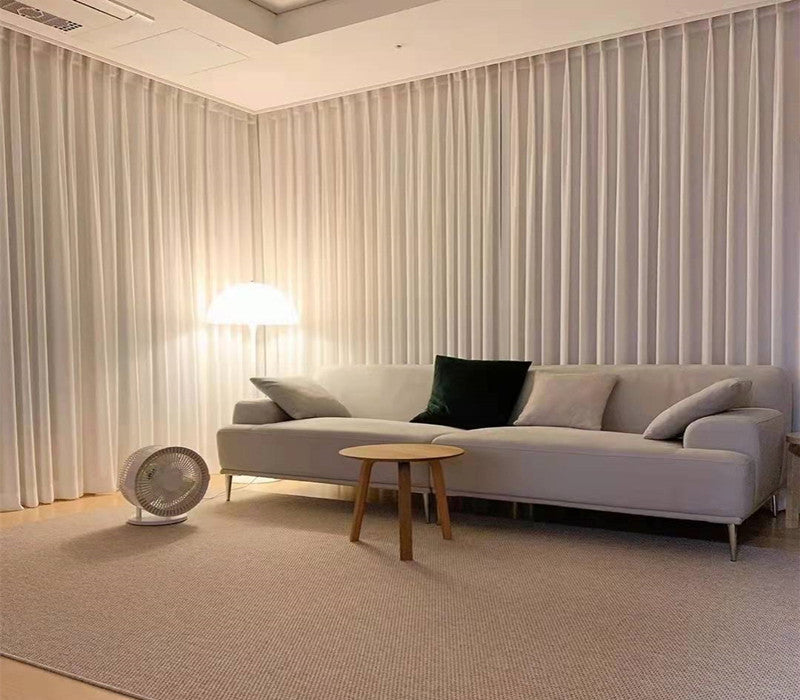 The Difference Between Polyester Fiber Rugs and Wool Rugs
Introduction
When it comes to choosing an area rug for your home, you have a wide variety of options. Two of the most popular choices are polyester fiber rugs and wool rugs. While wool rugs have a long history, polyester fiber rugs have gained popularity in recent years, replacing synthetic and polypropylene alternatives.
Both polyester and wool rugs have their advantages when it comes to fibers. Polyester rugs are known for their resistance to dirt and their silky appearance, making them a practical choice. On the other hand, wool rugs are favored for their natural beauty and durability.
With so many options available, it's important to understand the differences between polyester fiber rugs and wool rugs before making a decision. In this blog post, we will compare and contrast the features of these two types of rugs, to help you make an informed choice that fits your needs and preferences.
Color combinations: 
Compared to polyester living room rugs, wool fiber for the carpet is only available in a limited number of colors. Because of the thread and dark color, a wool fluffy rug is more dirt-resistant than a polyester one. 
Rug suitable according to the weather:
Many of us look for home accessories best suited to the local weather and climate. In the summer, we don't wear our winter gear. The laundry room rugs follow the same rule. Wool is the best material for winter laundry room rugs, even though both are fur textures. Poly had a nylon feel, which is ideal for a summery climate. Depending on where you live, you may be able to find colorful rugs made from either material.
Neither of these man-made colorful rugs has the same quality or variety as nylon, but they are still suitable for use in high-traffic areas. Even though some rugs have a similar look and feel, polyester fiber rugs are much easier to clean.   
Rugs made from polyester fibers, made from a mixture of synthetic yarns like acrylic, nylon, and polypropylene, are solid, shiny, and long-lasting. The use of man-made materials enhances the artificial appearance. Polyester synthetic fibers are a better option than wool for those looking for a soft, luxurious feel. 
To continue to welcome visitors, polyester has taken the place of wool fibers with more advanced features. Everyone can afford a fashionable geometric rug thanks to the low cost of synthetic fibers.  
Wool rugs have long been popular in homes everywhere. It is possible to use the designs and patterns to substitute the traditional rugs. A vacuum is all that is needed to keep the wool floor top clean. Cleaning with fresh water increases the product's life expectancy. 
Wool-rayon blends are trendy right now, whether for personal or domestic use. The wool rug's plastic base is ideal for all circumstances in terms of floor grip and all other potential applications. Particularly in the colder months, the pet enjoys curling up on the wool rugs to play, rest, and warm-up. Rugs made of wool come in a wide variety of colors and patterns. It doesn't matter if you're looking to furnish your living room or your patio. Wool geometric rugs are a common winter addition because of their ability to protect the flooring beneath them.
What is the best way to clean wool rugs?
The majority of germs and dirt particles can cause various health issues if they are not adequately cleaned from time to time, regardless of whether the fluffy rug is made of wool or polyester. At a reasonable price, special wool cleaners can be purchased. Nursery rugs made of polyester and nylon can also benefit from using these.
What is the best way to clean
polyester fiber rugs

?

Polyester rugs are made from man-made fibers, and compared to natural material rugs, they are much easier to maintain. To clean polyester rugs, you'll need a low-cost cleaner or soap for a quick wash. Stains from retardant nursery rugs can be removed with various homemade cleaning solutions, such as using baking soda, vinegar, or lemon juice. With regular cleaning using the appropriate products, your polyester rugs can remain in excellent condition for years to come.
Conclusion
Both polyester fiber rugs and wool rugs have their own advantages and disadvantages, and which one you choose will depend on your needs and preferences.
Polyester fiber rugs are made from synthetic fibers and typically have a longer lifespan and lower price. They are also relatively easy to clean because polypropylene fibers do not easily absorb stains, and they can often be cleaned with a steam cleaner. However, wool carpets are generally more expensive and require regular cleaning to maintain their appearance and quality.
Therefore, which carpet you choose will depend on your preferences and budget. But if you want a durable, easy-to-clean carpet, polyester fiber rugs might be a better choice. Matace removable carpet tiles are made from 100% PET Polyester with a Mecko backing system. Easy to install, easy to clean. You definitely don't want to miss out.